When amassing a substantial wine collection, whether for personal indulgence or professional purposes, creating a secure and well-ventilated storage space becomes imperative.
Given the substantial investment required for large capacity wine coolers, it is paramount to meticulously assess all pertinent factors before committing to a purchase.
These wine coolers, with the ability to house anywhere from 100 to 600 bottles, prioritize quality components and precise temperature control to safeguard your prized wine collection.
Featuring state-of-the-art touch controls, internal fans, and captivating lighting options, these wine coolers often boast luxury features. Among these features, LED lighting has emerged as the industry standard due to its sleek design, energy efficiency, and its ability to eliminate heat generated by traditional lighting.
Also Read: Best Commercial Beer Fridge Reviews
Large capacity wine coolers, holding anywhere from 100 to 600 bottles, are sophisticated appliances meticulously designed for showcasing your wine collection to both you and your esteemed guests. Ensuring adequate storage space is paramount in these wine refrigerators.
In this article, we present a comprehensive review of the top large-capacity wine coolers capable of accommodating wine collections ranging from 100 to 600 bottles.
Best Large Capacity Wine Coolers Reviews
Best 100 Bottle Wine Cooler
Whynter BWR-1002SD Compressor Large Capacity Wine Refrigerator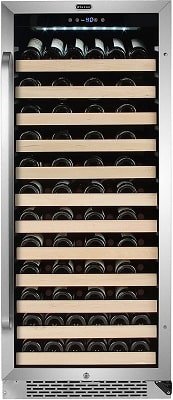 Features
Dimensions : 23.5 x 22.5 x 55 inches
Weight: 159 pounds
Capacity: 100 bottle
Adjustable thermostat
Powerful compressor cooling
Enhanced UV protection
Introducing Whynter's 100-Bottle Large Capacity Wine Cooler, the flagship of our expansive wine storage solutions. This state-of-the-art single-zone compressor wine fridge is the epitome of wine preservation, accommodating up to one hundred standard 750-milliliter wine bottles within its sturdy metal frame.
Crafted with wine enthusiasts in mind, this wine cooler boasts a range of premium features. The wire display rack provides an elegant showcase for your open bottles, while the 12 removable hardwood slide-out racks offer exceptional quality, functionality, and safeguarding for your valuable wine assortment.
Thanks to its highly efficient compressor cooling system, this wine cooler maintains a temperature spectrum between 40 and 65 degrees Fahrenheit. Conveniently, an integrated digital touch control panel is nestled inside the cabinet, allowing you to customize the temperature settings to suit your specific needs.
Also Read: Best Whynter Wine Coolers
Flexibility is key with our 100-bottle wine cooler. Its door can be hung vertically or horizontally, affording you versatile placement options to complement your living space.
For uniform cooling throughout the cabinet, an integrated fan ensures that every bottle is kept at the optimal temperature. To create the ideal environment for your wine collection, we strongly recommend the use of activated carbon filters.
Our wine rack includes 12 detachable, wooden-faced wire shelves, designed to accommodate larger wine bottles. For added security, a cylinder lock is included to deter curious hands from tampering with your precious bottles.
The sleek, tempered glass door complements the stainless steel door frame, which serves the dual purposes of aesthetics and UV protection, perfecting the modern aesthetic. Illuminating your collection is an LED light inside the cooler, adding a touch of sophistication to your wine storage.
Pros
Built-In or Freestanding Installation
Inclined display shelf for showcasing
Powerful compressor cooling
Double-pane glass door for UV protection
Cylindrical safety lock with 2 key
Cons
No dual zones

No LED at the bottom side
Best 150-Bottle Wine Fridge
Colzer 154-Bottle Fast Cooling Low-Noise Wine Fridge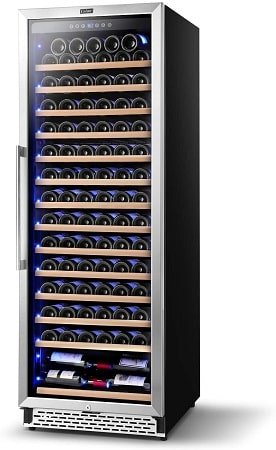 Features
Dimensions : 23.7 x 27 x 67 inches
Weight: 207 Pounds
Capacity: 154 bottle
Energy Efficient
Temperature memory function
Digital Temperature Control Screen
Lockable exterior door
The Colzer wine chiller not only promotes energy conservation but also enhances environmental protection by significantly reducing power consumption. It operates using up to 55% less energy compared to standard wine refrigerators while maintaining optimal cooling efficiency.
Equipped with a carbon filter, this wine cooler ensures a continuous circulation of fresh air within your space, contributing to the maintenance of the perfect humidity levels required for wine storage.
Designed with a tinted glass door and a sturdy stainless steel frame, this wine cooler has a large capacity of 150 bottles. The tinted glass serves to shield your valuable wine collection from harmful sun rays, all while minimizing the risk of accidental wine spills.
This wine cooler boasts a generous 154-bottle capacity, made easily accessible by its 14 retractable beechwood shelves, which are both functional and elegant.
For precise temperature control, the wine refrigerator features a digital temperature management board. The digital display allows you to effortlessly adjust and monitor the current temperature, which can be set anywhere from 41°F to approximately 72°F.
Furthermore, this wine cooler offers added security with a safety lock and a built-in memory function. This memory function stores temperature settings in case of a power outage, ensuring the safeguarding of your valuable wine collection.
Pros
Built-In or Freestanding Installation
55% less energy consumption
Powerful compressor cooling
Active carbon filter for fresh air
14 removable beech wood shelves
Low noise up to 40 dB
Zephyr Presrv 148 bottles Single Zone Large Capacity Wine Cooler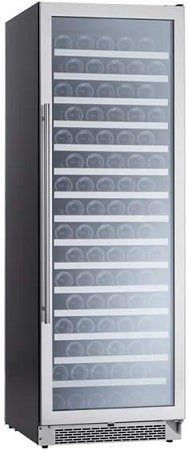 Features
Dimentions: 24 x 27 x 70 inches
Weight: 262 pounds
Capacity: 140 bottle
Door Open Alarm
Vibration Dampening System
3-Color LED Lighting 
Carbon Filter Air Filtration
Experience wine storage perfection with Zephyr's latest 150-bottle wine refrigerator, a must-have for wine enthusiasts. This state-of-the-art appliance offers a plethora of convenient features designed to cater to even the most discerning connoisseurs.
Equipped with digital capacitive touch controls, you can precisely adjust the temperature within a range of 40 to 65 degrees Fahrenheit, ensuring that your wine collection is kept at the ideal temperature.
Enhancing both functionality and aesthetics, the wine cooler features Cloud White, Deep Blue, and Amber 3-Color LED Lighting within the cabinet. This not only adds a touch of elegance to your wine storage but also ensures a beautiful presentation every time you access your collection.
Maintaining the pristine condition of your wines is a top priority, and the integrated carbon filter ensures that the cabinet's air remains clean, thus preserving the delicate flavors of your wines. The modern appeal of stainless steel accents complements the black wood racks, elevating the overall design of the wine cooler.
Additionally, the wine chiller operates at a maximum noise level of approximately 40 dB, ensuring a quiet environment for your wines. Its design is well-suited for concealed or built-in installation, seamlessly integrating into your space.
To further protect your investment, the Zephyr wine cooler is equipped with an alarm that sounds if the door is left open for an extended period, maintaining a consistent temperature within the cabinet.
Pros
Spacious 150-bottle capacity
Precise temperature control
Elegant LED lighting
Clean air preservation
Stylish stainless steel accents
Low noise operation
Best 150-Bottle Wine Cooler
EdgeStar 24 Inch Wide 151 Bottle Large Capacity Single Zone Wine Cooler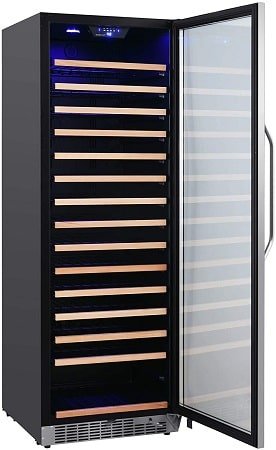 Features
Dimensions : 26.56 x 23.44 x 69.44 inches
Weight: 216 pounds
Capacity: 151 bottle
15 sturdy metal roll-out shelves
Reversible door
Integrated true-key lock
Front Ventilation
Introducing the EdgeStar 151-Bottle Large Capacity Built-In Wine Cooler, a new pinnacle of flexibility in wine storage. Crafted with premium materials, this wine cooler is designed to blend seamlessly into any setting while providing ample space for your wine collection.
Featuring a robust tempered steel handle and a sleek stainless steel door, this cooler adds a touch of sophistication to any environment. The EdgeStar set boasts 15 metal shelves with wooden front accents, offering the versatility to accommodate up to 151 standard wine bottles. Thanks to removable racks, taller bottles can also find their place within.
Say goodbye to concerns about uneven temperature distribution. The internal dispersion fans work in harmony with the compressor to ensure uniform cooling throughout the interior. Plus, the reversible door design allows installation in virtually any room, and the included authentic key lock adds security and peace of mind to your extensive wine collection.
Also Read: Best EdgeStar Wine Cooler Review
Illuminate your wine selection beautifully with the energy-efficient LED lighting, whether you choose to integrate the unit into a room or display it on its own. The leveling legs guarantee a stable and attractive presence in any setting. Upgrade your wine storage with the EdgeStar 151-Bottle Large Capacity Built-In Wine Cooler, where flexibility, elegance, and precision cooling meet.
Pros
LED lighting illuminates
Leveling legs for stable placement
Powerful circulation fans
The door is reversible
Integrated safety lock
Cons
No dual zones

No LED at the bottom side
Best 200-Bottle Wine Fridge
Wine Enthusiast Large Capacity Wine Cooler

Features
Dimensions : 34 x 30 x 81 inches
Capacity: 200 bottle
Freestanding Installation
ETL-certified silent cooling technology
Cool blue LED lighting
Lockable exterior door
Introducing the Wine Enthusiast Freestanding 200 Bottle Wine Fridge, the next contender in our lineup of high-capacity wine coolers.
This wine enthusiast wine cellar boasts an impressive 200-bottle storage capacity, accommodating standard-sized wine bottles with ease. Additionally, its 12 removable wire shelves provide the flexibility to house larger wine bottles comfortably.
Enhancing the appeal of your wine collection, soft blue LED lights within the cabinet create an aesthetically pleasing and well-illuminated view from the outside.
Navigating your wine storage preferences is a breeze with the user-friendly digital touch control panel. With just a single click, you can set your desired temperature within a range of 41°F to 68°F, ensuring optimal conditions for preserving both red and white wines.
This wine cooler features ETL-certified cooling technology, rendering it exceptionally quiet and vibration-free. The double-pane glass door not only protects against harmful UV rays but also adds a touch of sophistication with its dark black frame.
For added peace of mind, the door is equipped with a safety lock to keep pets and children from unintentionally opening it, ensuring your wine remains perfectly chilled.
With its freestanding design, this 200-bottle wine cellar is a versatile addition to your home, suitable for placement in your basement, pantry, or gaming room.
Pros
Accommodates various bottle sizes
Soft blue LED illumination
Easy temperature adjustments
Minimal noise and vibrations
Double-pane glass door
Prevents unauthorized access
Best 300-Bottle Wine Fridge
Edgestar 332-Bottle Built-In Side-by-Side Wine Cellar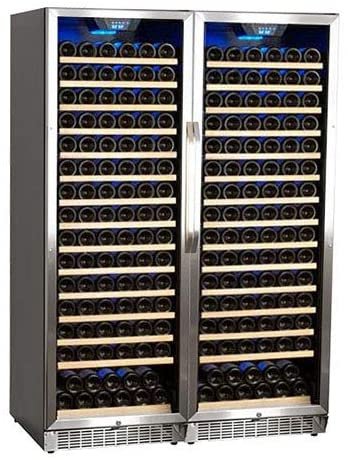 Features
Dimensions : 26.75 x 46.88 x 69.5 inches
Weight: 460 Pounds
Capacity: 332 bottle
Side-by-Side Refrigerators
Reversible French Door
Replaceable built-in carbon filter
Wood-trimmed wire shelves
Transform your wine storage with the EdgeStar wine cooler, offering an impressive 332-bottle capacity when two units with a 166-bottle limit each are combined.
This capacious wine cooler features a reversible door, with both coolers arriving with a right-hinged door by default. However, it's a breeze to change it to your preference by following the included instructions.
Enjoy precise control over your wine's climate with both wine coolers, allowing you to set temperatures in the range of 40-65 degrees Fahrenheit independently for each unit.
Whether you opt for built-in or freestanding installation, these wine coolers provide the flexibility to place them wherever they best fit in your space. Their stainless steel door frames not only look stunning but also complement a variety of home decor styles.
Also Read: Best Man Cave Beer Fridge
Keep your wine fresh and in optimal condition with the replaceable carbon filter included in this 300-bottle wine fridge, ensuring a constant supply of fresh air. The removable and slide-out wood-trimmed wire shelves make accessing your wine collection effortless.
No more worries about hot spots or uneven cooling, thanks to the efficient circulator fans that work in conjunction with the compressor to evenly distribute cool air throughout the unit.
Convenient digital touch control panels and digital temperature displays on each unit make adjusting and monitoring temperatures a breeze.
The colored glass doors not only showcase your wine bottles but also protect them from potentially harmful light and UV rays. For added peace of mind, these units feature security locks to keep your wine collection safe.
Pros
Powerful circulation fans
Large storage capacity
30 wood-trimmed wire shelves
Auto defrost
Child Safety lock
Cons
You can only store standard-sized Bordeaux bottles
Best 600-Bottle Wine Cooler
Allavino Vite 610 Bottle Large Capacity Wine Cooler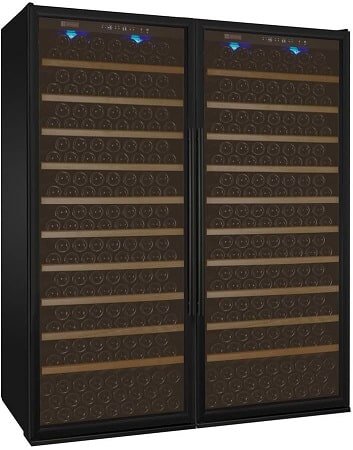 Features
Dimensions : 79 x 63 x 28 inches
Weight: 730 Pounds
Capacity: 610 bottle
Dual-Zone Wine Cellar Refrigerator
Versatile adjustable shelves
Activated charcoal filter
Easy-to-use digital touch control 
If you're in search of an exceptional wine cooler with a generous storage capacity, the Allavino 610-Bottle Wine Cooler is your ideal choice. This wine storage marvel is equipped with all the essential features you'd expect from a premium wine cooler.
The Allavino Dual-Zone Wine Cellar Refrigerator is designed to showcase and preserve your extensive and diverse wine collection in style. With an impressive 610-bottle capacity and customizable racks, it's an absolute must-have for dedicated wine enthusiasts.
Inside the cabinet, an internal circulator fan ensures even cooling and prevents significant temperature variations between the upper and lower shelves.
The UV-protected, non-glare glass door not only offers a splendid view of your collection but also shields it from harmful light and condensation.
For added security, the built-in key lock comes with two keys, ensuring you always have a spare on hand.
This large-capacity wine cooler effortlessly accommodates both red and white wines at their optimum temperatures, thanks to its two distinct temperature zones controlled by user-friendly digital displays and press-button controls.
Each zone allows temperature adjustments within the range of 41°F to 72°F, providing you with the flexibility to store exclusively red, exclusively white, or a combination of both. The illuminated temperature display for each zone is visible through the glass, making monitoring a breeze.
Pros
Extra Thick Hardwood Shelves
Cool Blue LED Interior Lighting
Tinted Glass Door with Lock
Fan-Forced Cooling
Factors to Consider When Selecting a Large Capacity Wine Cooler
When in the market for an extra-large wine fridge, there are several essential factors to take into account to ensure you make an informed choice. Here are the key considerations when purchasing a large-capacity wine cooler:
Built-in vs. Freestanding Installation:
Built-in wine coolers are designed to seamlessly integrate into your desired setting, typically within an enclosed space in a kitchen or bar area. They are also known as under-counter units. The key difference between built-in and freestanding wine coolers is that built-in units feature front ventilation, often located at the lower part of the cooler. This ventilation allows them to be placed in enclosed spaces without affecting the airflow, which is crucial for preserving wine freshness and temperature. Note that under-counter wine coolers can be used as freestanding units, but not the other way around.
Also Read: Best Garage Beer Fridge
Single-zone vs. Dual-zone:
Wine enthusiasts often have a diverse collection of wine, each with distinct cooling requirements, especially among red and white wines. Dual-zone wine coolers come to the rescue, as they can accommodate both reds and whites in a single unit while storing them at different temperatures. Your choice between a single-zone and dual-zone wine cooler will depend on the types of wine you plan to store.
Size and Weight:
The dimensions of the wine cooler are crucial, especially if you plan to fit it into a limited physical space. Keep in mind that large capacity wine coolers, as the focus of this article, tend to be heavy due to their extensive storage capabilities.
Temperature Range:
Your preferred wine temperature plays a significant role in your choice. Some wine enthusiasts prefer their wine to be stored at around 40°F, while others may opt for a mid-40°F temperature. The ideal temperature setting will largely depend on the types of wine you plan to store, with reds requiring higher temperatures than whites and rosé, which are best stored at cooler temperatures. It's worth noting that all the wine coolers mentioned below can store reds, whites, and rosé.
Product Cost:
Budget considerations are essential, as each reader will have a unique budget in mind. When selecting the best large capacity wine cooler, it's important to find one that aligns with your budget while still offering the desired features.
Also Read: Best In Cabinet Wine Coolers
Warranty:
Like any significant investment, having a manufacturer's warranty is crucial to cover any potential mishaps or technical issues that may arise. Rest assured that all the wine refrigerators featured in this article come with at least a 1-year warranty.
Customer Ratings and Reviews:
Customer reviews and ratings offer valuable insights into both the positive and negative aspects of a product. This information can be incredibly helpful when making a decision. However, we've already conducted the research for you, summarizing the reviews for each product mentioned above.
Conclusion
Selecting the best large capacity wine cooler is a task that demands careful consideration of various factors to ensure your prized wine collection is stored and preserved in optimal conditions. These coolers are designed to meet the needs of wine enthusiasts who wish to house substantial quantities of wine, and as such, they are a significant investment.
Also Read: Best Wine Cellar Cooling Units
In this pursuit, key factors such as the installation type (built-in or freestanding), the choice between single-zone and dual-zone cooling, the cooler's size and weight, the temperature range it offers, your budget, and the availability of a manufacturer's warranty should guide your decision-making process. Furthermore, the insights provided by customer reviews and ratings can help validate your choice.
Within the realm of large capacity wine coolers, there are options to suit various preferences and requirements. The perfect wine cooler for you will depend on your specific needs and constraints. Be it for a restaurant, a wine cellar, or an enthusiast's personal collection, finding the best large capacity wine cooler ensures your wines are stored in a manner that upholds their quality and flavor.
With the right large capacity wine cooler, you can take your wine collection to new heights, providing a haven for your favorite vintages while enhancing your ability to entertain and enjoy exceptional wine at your leisure. Remember that the best choice is the one that harmonizes with your unique wine storage needs and preferences.