If you are looking for the Best Edgestar Wine Cooler Reviews, then you have come to the right place. This article will cover all the features of wine cooler, which makes this EdgeStar Wine Cooler unique compare to other.
You can choose from a basic one or a more advanced one depending on your needs. There are a lot of competing products in the market.
You should not base your decision on price alone. Rather, make sure that you get the most suitable one for your needs.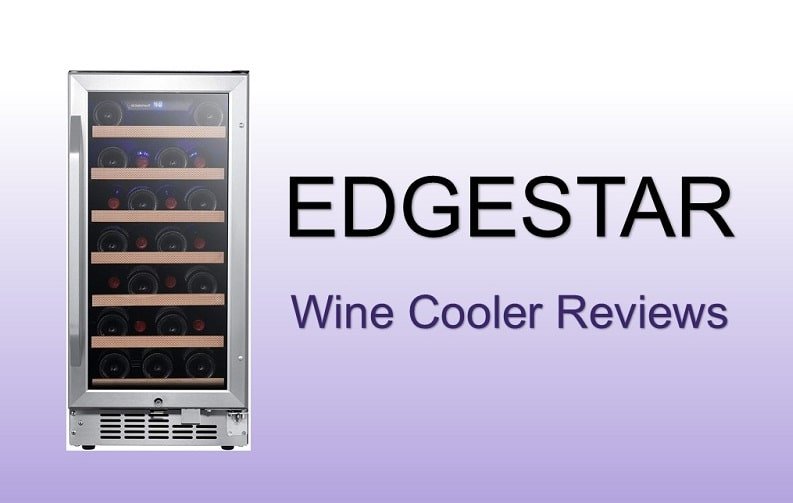 Since Edgestar is the popular brand, they offer a lot of units in the market. Some of them are more expensive than others but if you compare all of their products, you will be able to determine which one will suit your need the best.
You should really consider edgestar wine cooler reviews before making your purchase. Because it will help you decide which among the many Edgestar Wine refrigerator reviews will be suitable for your needs.
Also Read: Kalamera Wine Cooler Reviews
You should really take time to read through the reviews because it will provide you with the most accurate information. It is a good idea to read the reviews in order to gain a lot of knowledge about a product before buying it.
There are certain things that you should keep in mind when you make your purchase. In this article, I have provided you with some of the features of the product.
Top Picked Edgestar Wine Cooler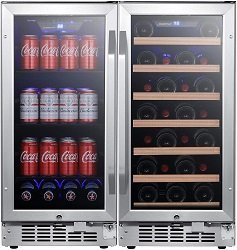 EdgeStar Wine and Beverage Cooler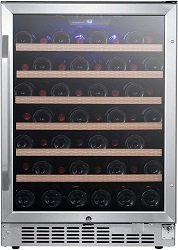 EdgeStar Built-In Wine Cooler Review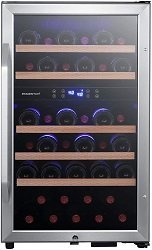 EdgeStar 38 Bottle Dual Zone Wine Cooler
Best Edgestar Wine Cooler Reviews
1. EdgeStar 38 Bottle Dual Zone Wine Cooler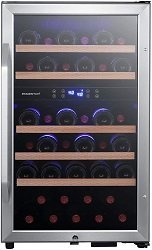 Features
Dimention   : 23 x 19.38 x 32.88 inches
Weight         :  99 pounds
Capacity      :  38 bottle
This edgestar dual zone wine cooler has moderate storage capacity of 38 wine bottles. As it is dual zone, you can store any type of wine bottles at its desired temperature.
The stainless steel door frame and soft blue LED light makes this edgestar dual zone wine cooler looks elegant to any place.
Two temperature zones permit you chill whites and reds at their ideal temperatures for a superior tasting and longer-enduring wine.
The upper zone of cooler has a temperature range from 40 to 54°F while the lower zone has a temperature range of 54 to 65°F.
For better and even cooling throughout the cooler cabinet this wine cooler has internal circulator fan which work with compressor.
The reversible door of cooler allows you to fit door any side you want.
It has LED temperature show and controls that permit you to effectively set and see the temperatures for each zone individually.
A safety lock gives you a true serenity in realizing that your assortment is sheltered from robbery in any event, when you aren't anywhere near.
Amazing design
Dual zone cooling
Safety lock
Reversible door
LED control display
2. EdgeStar 53 Bottle Built-In Wine Cooler Review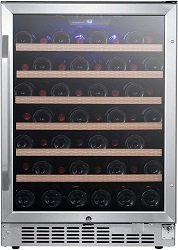 Features
Dimention   : 22.5 x 23.5 x 33.5 inches
Weight         :  100 pounds
Capacity      :  53 bottle
This EdgeStar wine cooler is the one that you need on the off chance that you are searching for a single zone wine cooler that can fit under the counters.
Build wine cooler in such a way that it appropriate air ventilation on its outsides to guarantee your wellbeing.
It additionally has reversible front door and handles to make it fit in your kitchen cabinet easily.
This EdgeStar wine fridge is perfect for the individuals who have constructed a huge wine determination that requires a similar cooling temperature for capacity.
It is inherent and has racking which is intended for long haul wine storage. Different highlights that guide its long time storage capacities are its low-wattage utilization, scent disposal, and no vibration cooling framework.
It is a peaceful and modern wine refrigerator that will have its home in yours in the event that you are a wine fan that has aggregated or plans to begin an enormous wine assortment.
This EdgeStar wine cooler offers extraordinary incentive at its cost. Add to that its long guarantee making it a decent buy for your home use.
Keep your wines at the ideal cooling condition so you can appreciate better maturing of wines and extraordinary taste.
Large bottle capacity wine cooler
Reversible front door
Built-in or under the counter installation
6 removable shelves
Soft blue LED lighting
Odor-free through carbon filters
3. EdgeStar Wine and Beverage Cooler Review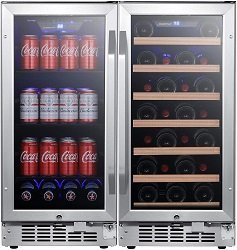 Features
Dimention   : 23.5 x 30 x 32 inches
Weight         :  166 pounds
Capacity      :  30 bottles and 80 Cans
Now store the entirety of your preferred drinks in the EdgeStar Wine and Beverage Cooler.
It has storage capacity up to 30 wine bottles of your preferred wines while likewise store 80 of your preferred canned drinks, you'll be set up for any diversion situation or individual desiring that may emerge.
Its stainless steel door frame, smooth LED inside lighting, and other mindful structure highlights make this drink community the ideal expansion to any kitchen, bar, or engaging space.
With a joined temperature range of 38-65 °F between the two accessible temperature zones, you'll have the option to store a gathering of refreshments all at their ideal temperatures.
You'll never need to stress over problem areas or lopsided cooling because of the ground-breaking dissemination fans, which work with the compressor to equally convey cool air all through the cabinet.
The transparent glass door guarantee that while your drinks are noticeable, they are protected from the possible damage of unforgiving light and UV beams.
An inherent carbon channel secures your wine by going about as a trademark limit against perilous fragrances.
To protect your preferred wine this EdgeStar Wine and Beverage Cooler has simple to-utilize incorporated security locks.
It would be ideal if you note the wine cooler is intended to fit standard size Bordeaux bottles.
As referenced over these units transport independently and will both show up right pivoted. You may adhere to the guidelines in the manual to turn around one of the entryways for a french entryway style.
Wine and Beverage Cooler
Touch temperature controls
Door Alarm
Security lock
Built-In or Free Standing Install
4. EdgeStar 7 Bottle Built-In Wine Cooler Review

Features
Dimention   : 20.38 x 5.81 x 34.31 inches
Weight         :  42 pounds
Capacity      :  7 bottle
This EdgeStar wine cooler has a 6-inch width that makes it simple to fit into little kitchens requiring insignificant space. It uses compressor-based cooling technology with a 7-bottle limit.
The single-zone EdgeStar wine cooler works at a wide scope of temperatures and has a computerized control board and LED show for simplicity of temperature the executives.
This model is perfect for little spaces and those with a little wine assortment. With a glass front board and blue LED lighting, it's intended to be fit with modern style kitchen subjects.
On the off chance that you have constrained space under your kitchen counters, this EdgeStar wine cooler with its thin form is the correct wine cooler for you.
As a little something extra component, this model additionally has reversible entryways and simple to-introduce handles that let you modify the situation of the wine cooler in your home contingent upon your necessities.
Built in or freestanding Installation
Sleek Design
6 removable racks
Soft Blue LED light
Digital temperature display
5. EdgeStar Freestanding Dual Zone Stainless Steel Wine Cooler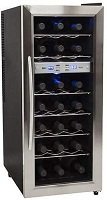 Features
Dimention   : 20.25 x 13.4 x 32.5 inches
Weight         :  46 pounds
Capacity      :  21 bottle
This EdgeStar dual zone wine cooler is a temperature-controlled independent unit that offers effective air cooling, dissemination, and ventilation.
It perform all these while taking out low vibrations and commotion.
Its double zone activity offers a wide temperature run so you can store an assortment of select wines. While numerous double zone wine coolers offer even wine storage capability, this wine cooler goes vertical.
With top and base cooling zones, this wine cooler is suggested for the individuals who have restricted even space in their rooms.
Its amazing design and steel frame glass door with sun assurance, and scalloped chrome racking, we are sure you will effectively utilize this wine cooler.
The upper zone allow 6 bottle to store while lower zone allow you 15 wine bottle storage.
It's inside soft blue LED light makes you see your wine assortments from outside without opening the cooler.
Both the zones have independent temperature control located at between the zones.
6 removable chrome shelving
UV protected glass door
Vibration-free thermoelectric cooling
Dual temperature zone
6. EdgeStar 32 Bottle Dual Zone Wine Cooler Review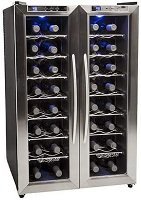 Features
Dimention   : 21.69 x 20.69 x 32.25 inches
Weight         :  79 pounds
Capacity      :  32 bottle
If you have ample space at home and looking for some large capacity wine cooler, this would be our suggestion.
With its French entryway structure and separate glass entryway boards, advanced controls, and LED-lit showcases for the left and right zones, you can be sure you can without much of a stretch deal with the condition your wines are inside.
This wine cooler is perfect for the individuals who can devote space for a wine cooler. It is a sturdy wine refrigerator with a huge container limit adept for putting away a wide assortment of wines.
If you can oblige a double door wine cooler with dual-zone activity, this built-in wine cooler is the one you need.
Its vibration-free activity and even air cooling dispersion guarantee that your wines are kept in ideal condition for long haul storage.
Additionally, with auto defrost highlight, you can have confidence cleaning, and keeping up this wine refrigerator won't be a troublesome errand for you.
You can purchase this EdgeStar wine cooler on the off chance that you are searching for a calm and stylishly satisfying wine fridge for your wine determination.
French door design
Freestanding only
Auto Defrost feature
14 removable chrome shelving
Thermoelectric cooling system
Quiet and vibration-free performance
Why Choose EdgeStar?
EdgeStar has been picking up publicity with heaps of positive audits and high consumer loyalty appraisals.
They are a BBB licensed business with an A+ dependability positioning for longer than a time of propelling quality specialty machines that envision the necessities of the clients.
Their wine fridges are intended for contemporary kitchens, little spaces, and mechanical home insides.
With creative highlights on every item, they are positive about support up their wine coolers and refrigerators with their guarantee. For every one of these reasons, we decided to carry this brand to the spotlight now.
Also Read: Best Whynter Wine Cooler Review
Factors to Consider When Purchasing an Edgestar Wine Cooler
In this Edgestar Wine Cooler reviews, we will be exhibiting wine coolers and refrigerators with various highlights. We might want to talk about a portion of the primary highlights you may need to consider before picking the best Edgestar wine cooler for your home:
Wine Cooler Size
We will show French entryway wine fridges just as like thin and slim wine coolers for your determination. Consider the size of the cooler with the space you can assign for it in your home.
Installation Type
EdgeStar offers both built-in and freestanding wine coolers. The entryways could possibly be introduced in various manners as well.
Some wine coolers from EdgeStar have reversible entryways. Consider this on the off chance that you have little spaces or impediments when introducing the wine cooler.
Temperature Ranges
Wine specialists realize that red and white wines have diverse cooling prerequisites.
On the off chance that you have a blend of both in your wine assortment, a double zone wine cooler is best for you. It keeps two separate zones with various temperatures ideal to the kind of wine you store in the zone.
In the event that your assortment comprises of wines that have comparative cooling prerequisites, a single zone activity wine cooler is the thing that you need.
Compressor Vs Thermoelectric
There are a few interesting points while picking the kind of cooling framework the wine cooler employments.
Coolers that sudden spike in demand for compressor are simpler to have repaired by local repairmen however may have little vibrations.
Thermoelectric wine coolers are intended to dispense with vibrations yet are more diligently to fix and supplant parts.
Also Read: Best Allavino Wine Cooler Reviews
Conclusion
EdgeStar is driving the path in moulding stylish structure and usefulness norms through their scope of wine coolers.
A shared factor among EdgeStar's wine coolers is a broad decision in the usefulness every unit has accessible. Unpretentious contrasts in the highlights every unit have represented all wine gatherers' preferences for style and usefulness prerequisites.
If you are thinking about the acquisition of an advanced looking, exquisite wine cooler, our EdgeStar wine cooler reviews will without a doubt have served to feature a couple of key variables for your thought, especially concerning the common sense and flexibility of your wine authority's way of life.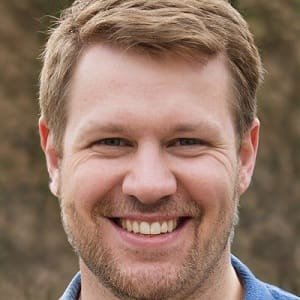 Nicholas K. Smith
Nicholas K. Smith is a wine enthusiast, wine researcher, and wine blogger, who has been in the industry for many years. He is passionate on wine storage by providing guides, reviews, and blog posts about all wine storage units.