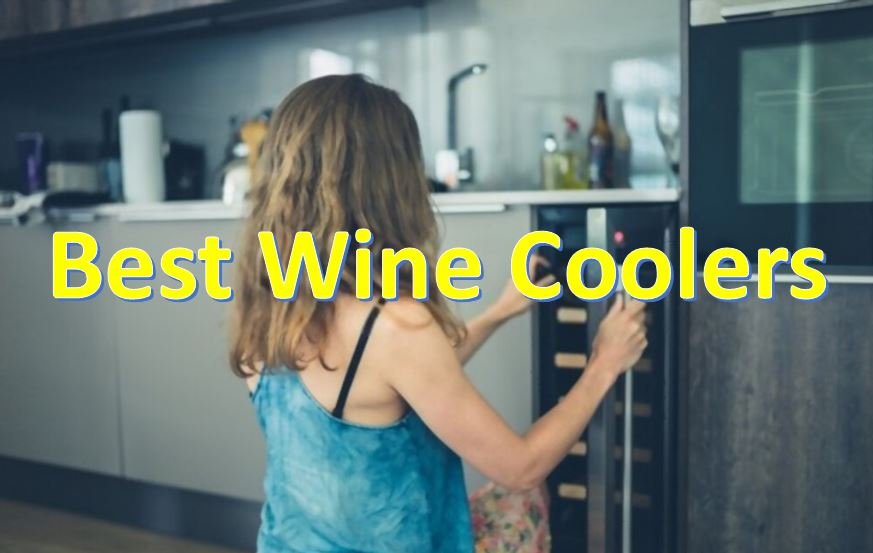 Wine holds a paramount place in the hearts of oenophiles, but preserving its freshness poses a challenge. To ensure wines maintain their natural taste over both short and extended periods, wine coolers are widely employed.
Recognizing the critical role of temperature in wine storage is indispensable. For whites, the optimal temperature typically falls between 45 and 50 degrees Fahrenheit, while reds thrive at temperatures ranging from 55 to 65 degrees Fahrenheit.
The impact of temperature fluctuations on wine is profound. The expansion and contraction of the wine stopper over time draw oxygen into the bottle, leading to the deterioration of the wine.
Also Read: Best Beer Fridge For Garage
Choosing the right wine cooler for your kitchen or bar requires thoughtful consideration. Despite their seemingly straightforward nature, wine cooler units stand out as essential household appliances, especially for ardent wine enthusiasts.
In this post, we present a curated list of the finest wine coolers meticulously selected to meet your specific needs, ensuring your wine is maintained at the optimal temperature.
Features
Dimensions: 19 x 27 x 38 inches 
Weight: 79 pounds
Capacity: 30 bottles
Dual Cooling Zones
stainless steel front vents 
The 15-inch Aobosi wine cooler stands out as the ultimate choice for wine enthusiasts, earning its status as the best wine cooler overall. This model is highly favored among serious wine connoisseurs for several compelling reasons. Featuring two separate cooling zones, it accommodates up to 30 bottles, providing optimal storage conditions for various wine types.
One of the key advantages of this Aobosi wine cooler is its versatility in placement, made possible by adjustable feet and a sleek design. This flexibility ensures that it can seamlessly integrate into any space, enhancing both functionality and aesthetics.
While larger wine coolers often come with a higher price tag, it's crucial to maximize the value of your investment. This particular model not only boasts stellar reviews for its performance but also garners praise for the quality of its design and construction. The upper cooling zone, reaching temperatures of 41-55.4°F, is notably spacious, offering a comparable size to the bottom unit. This unique feature allows for the storage of a greater variety of whites and finer wines than many other refrigerators on the market.
For those with taller or wider wine bottles, the flexibility of this wine cooler comes to the forefront. Removing a shelf in the upper compartment allows for accommodating larger containers, adding an extra layer of customization to suit individual preferences. The sliding shelves, crafted from treated birch wood, are designed to resist moisture absorption and odors, ensuring the preservation of your wine collection's integrity.
Beyond its impressive functionality, the Aobosi wine cooler excels in providing a quiet compressor, enhancing the overall user experience. Additionally, it incorporates a highly effective charcoal filter, adept at eliminating unwanted odors. The practical door lock adds a layer of security, further solidifying the Aobosi wine cooler as a top-tier choice for wine enthusiasts seeking both performance and sophistication.
Adjustable feet
Charcoal air filter
Removable beech wood shelves
Temperature Memory function
2. Kalamera 24 Inch 45 Bottle Dual Zone Wine Cooler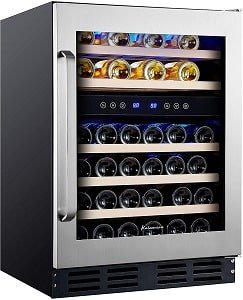 Features
Dimensions: 38.5 x 29.1 x 28.5 inches
Weight: 133.7 pounds
Capacity: 45 bottles
Dual Cooling Zones

Two Interior Fans
With a 45-bottle capacity, the Kalamera model stands out as a leading choice among built-in wine coolers. This dual-zone wine cooler effectively maintains temperatures ranging from 40 to 66 degrees Fahrenheit, creating an ideal environment for preserving and showcasing your wine collection.
In line with the standards of many other dual-zone wine refrigerators, the upper zone of this Kalamera unit is notably cooler than the lower zone. Specifically, the upper zone can be regulated within the range of 40°F to 50°F, making it perfect for serving champagnes and other sweet wines at their optimal temperatures.
One noteworthy feature of this wine cooler is its capacity to retain temperature settings even during power outages or natural disasters. This functionality is particularly valuable for individuals residing in areas prone to such occurrences, ensuring that your wine storage conditions remain consistent even in your absence.
Also read: Best Man Cave Beer Fridge
Beyond its temperature control capabilities, this 24-inch built-in wine cooler incorporates essential features like a safety lock, dual-zone temperature control, blue LED lighting, and wooden racks. However, it's worth noting that the quality of the racks doesn't entirely align with the product's price point.
While Kalamera's customer service is competent, there is room for improvement in terms of responsiveness and tailoring their support to the specific needs of their wine cooler users. For more insights and comprehensive reviews on Kalamera wine chillers, explore the best Kalamera wine cooler reviews available.
Silent compressor cooling
N

atural Beech Wood Shelving

Soft

 Blue LED Lighting

Provides Even Cooling without Fluctuations
3. NewAir 116 Bottle Large Capacity Dual Zone Wine Cooler
Features
Dimensions: 23.5 x 26.8 x 56 inches
Weight: 183 pounds
Capacity: 116 bottles
Dual Cooling Zones

Fully-Adjustable Wood Shelves
This NewAir appliance stands out as an excellent choice, offering the best large-capacity wine cooler currently available in the market at a remarkably affordable price. It can be used as a standalone unit, but its aesthetic appeal is enhanced when utilized as a base cooler.
The design and components of this refrigerator mirror those found in a standard 24-inch counter-depth refrigerator. Its dimensions are slightly more constrained, measuring 23.5″ in width, 26.8″ in depth, and 55″ in height.
In the upper zone, temperatures typically range from 40 to 50 degrees Fahrenheit, while the lower zone maintains temperatures between 50 and 66 degrees Fahrenheit.
For added flexibility, the shelves can be removed with a bit of effort, allowing you to create space for taller or wider containers. It's worth noting, however, that the racks are not adjustable, necessitating adequate space between each one.
The package includes some noteworthy extras, such as a UV-protected triple-paned door and elegant gold LED bulbs, a departure from the standard blue ones. The cooler also boasts a lockable door and individual thermostats and displays for both its top and bottom sections.
To combat dryness within the interior, an additional water container is provided. It's important to mention that, despite their practicality and reasonable cost, hygrometers are not included in this cooler. Nevertheless, considering its features and affordability, this NewAir device is undoubtedly a worthwhile investment for wine enthusiasts seeking a high-capacity storage solution.
Lower temperature as low as 40 degrees F
A triple-layered glass door
Ambient gold light with a dimming option
4. KUPPET 27 Bottles Compressor Single Zone Wine Cooler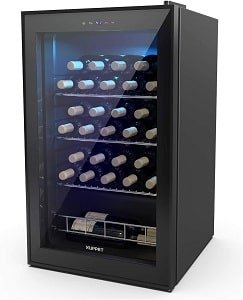 Features
Dimensions: 18.5 x 18.3 x 33.2 inches
Weight: 54 pounds
Capacity: 27 bottles
Super Quiet & Easy to Use
Soft-Touch Digital Panel
Introducing the Kuppet, a single-zone wine cooler that seamlessly combines the sleek appearance of a thermoelectric unit with an appealing simplicity, minimal frills, and an enticing price point.
Despite its straightforward design, the Kuppet wine cooler doesn't compromise on aesthetics. The wooden shelving, while unassuming, offers a notable feature – the ability to customize shelf configurations, providing you with a high degree of flexibility.
Setting itself apart from conventional wine refrigerators, this Kuppet model boasts a temperature range spanning from a cool 37.4 degrees to a moderate 50 degrees Fahrenheit. This makes it an ideal choice for wine enthusiasts seeking a reliable cooler and an excellent general refreshment chiller. However, it may not be the optimal choice for those looking to age more expensive wines.
It's worth noting that despite the single-fan system, some users have observed a slight temperature variance between the upper and lower sections. To maximize your storage experience, consider placing red wines in the upper levels.
Being a compressor cooler, the Kuppet offers the advantage of versatile installation. Whether it's in a basement or carport, this cooler can be accommodated effortlessly. What's more, the compressor design ensures a remarkably quiet operation, adding to its appeal.
Overall, the Kuppet wine cooler strikes a balance between aesthetics, functionality, and affordability. With its customizable shelving, broad temperature range, and quiet compressor, it presents a compelling option for wine enthusiasts seeking a versatile and budget-friendly cooling solution.
Sleek and exquisite design
Adjustable thermostat for ideal temperature
4 layers high quality curved metal shelves
Vibrations and noise-free
Best Single Zone Wine Coolers
1. Colzer 15 Inch 32 Bottle Single Zone Wine Cooler Refrigerators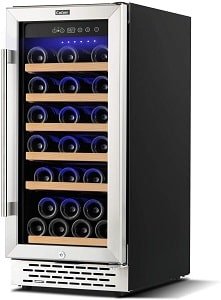 Features
Dimensions: 15 x 22 x 32 inches
Weight: 91.3 pounds
Capacity: 32 bottles
Child lock with 2 keys

NO noise NO vibration
The Colzer model stands out as the ultimate choice for a single-zone wine cooler, ensuring uniform cooling throughout the entire cabinet. Distinguishing itself from other products in its category, this wine cooler boasts advanced features such as temperature memory, a safety lock, and ambient blue lighting.
Ideal for the typical household, the single-zone design and generous 32-bottle capacity make the Colzer wine cooler a preferred selection. Users have the flexibility to set the temperature between 41 to 72 degrees Fahrenheit effortlessly, utilizing the digital control panel and a user-friendly push-button interface.
Powered by innovative compressor cooling technology, this wine cooler minimizes noise and vibration, thereby extending the lifespan of your cherished wine collection. Regardless of the type of wine you possess, maintaining consistent storage conditions akin to those found in professional wine cabinets is paramount, and the Colzer Single Zone Wine Cooler comes highly recommended by wine enthusiasts.
Not only does this unit excel in functionality, but it also adds a touch of style to your space while safeguarding your wines from the harmful effects of UV rays. The dual-pane glass door and stainless steel door frame contribute to the unit's aesthetic appeal, ensuring both a visually pleasing and secure storage environment. The safety lock further prevents accidental openings, guaranteeing that only you have access to your prized wine collection. Elevate your wine storage experience with the Colzer Single Zone Wine Cooler – where sophistication meets preservation.
Stable temperature setting
6 adjustable and removable shelves
Compact wine fridge design
Temperature memory function
2. Kalamera 50 Bottle Single Zone Wine Refrigerator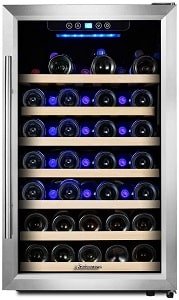 Features
Dimensions: 22.8 x 19.5 x 33.1 inches
Weight: 82.7 pounds
Capacity: 50 bottles
Dual pane glass door 

Advanced cooling technology
Are you in search of the perfect wine cooler to enhance your home ambiance? Look no further than the Kalamera 50-bottle single-zone model. Its sleek design, complemented by a stainless steel door frame, seamlessly integrates with various interior styles.
Designed for optimal functionality, the internal racks and fan ensure uniform cooling for all your wine bottles. With seven beechwood shelves capable of accommodating up to fifty Bordeaux bottles at the standard 750-milliliter capacity, this wine cooler offers both convenience and capacity. Should you need space for larger containers, simply remove some shelves to customize the storage.
The LCD display provides precise temperature control, allowing you to set the ideal range between 40 to 66 degrees Fahrenheit, making it adaptable to any environment.
Worried about power outages impacting your wine collection? Fear not. The warm meter feature automatically restores your cooler to the preset temperature, preventing any potential damage.
To safeguard your wine from harmful UV lights, the double-paned glass door serves as an effective barrier. Elevate your wine storage experience with the Kalamera 50-bottle single-zone wine cooler – where style meets functionality seamlessly.
Temperature range from 40°F-66°F
Interior fan for evenly cooling
7 Beech hardwood slat shelves
Stainless Steel Door and Handle
3. WIE 28 Bottle Single Zone Wine Cooler Refrigerator
Features
Dimensions: 16.9 x 17.7 x 33.1 inches
Weight: 59.9 pounds
Capacity: 28 bottles
Energy Efficient Cooling

Quiet Operation
Thanks to its excellent compressor cooling system, the WIE wine cooler maintains a temperature range of 41 to 64 degrees Fahrenheit, providing the perfect environment for your wine.
The single-zone wine cooler from WIE, equipped with a reliable compressor cooling mechanism, ensures a stable internal temperature, unaffected by external temperatures or additional heat sources.
With removable racks, this wine cooler accommodates bottles of various sizes and shapes. You have the flexibility to store opened bottles upright, and the racks can be reconfigured to serve as a wine glass rack for your most exquisite stemware.
Benefiting from an automatic defrost function, this wine cooler ensures consistent temperature and humidity levels, crucial for the proper preservation of your wine collection.
The double-paned smoke glass door, featuring an intelligent glass finish, safeguards your wine collection from both the sun's heat and harmful ultraviolet rays.
Enhancing the overall ambiance, the WIE 28 wine cooler boasts a soft blue LED interior light, creating a soothing atmosphere in your home. This thoughtful feature adds an extra touch of sophistication to your wine storage experience.
Auto defrost
Powerful Compressor Cooling System
7 Unique removable wire shleves
A digital control board on door
No safety lock
Not ideal for built-in use
4. Antarctic Star 26 Bottle Single Zone Wine Cooler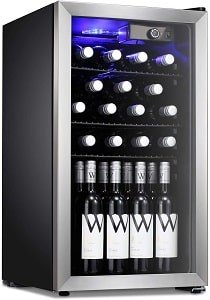 Features
Dimensions: 35.1 x 22.1 x 20.3 inches

Weight: 61.7 pounds
Capacity: 26 bottles
Efficient Cooling System
Adjustable Leveling Legs
Temperature range of 41º – 64ºF
Quiet and vibration-free operation
Reinforced glass door with airtight seal
compact and modern design 
Best Dual Zone Wine Coolers
1. LanboPro Stainless Steel Dual Zone Wine Cooler
Features
Dimensions: 25.3 x 29.5 x 34.4 inches

Weight: 146.7 pounds
Capacity: 62 bottles
High-Quality Compressor Cooling
Seamless Stainless Steel French Doors
Built-in or freestanding capable
The LanboPro stainless steel twin-zone wine cooler embodies a timeless perfection, internally illuminated by a delicate strip of white LED lights. This innovative double-zone design creates an optimal environment for the storage of various wine types.
Crafted with high-quality beech wood racks and elegant stainless steel fronts, this wine cooler offers versatility as it can be seamlessly installed as a freestanding unit or integrated into your built-in setup. The front venting structure adds to its flexibility and adaptability.
Take control of your wine storage with individual temperature settings for each of the two zones, ranging from 41 to 64 degrees Fahrenheit. The digital touch controls, conveniently located on the touch board, empower you to manage not only the temperature but also the internal LED lighting and easily switch between Fahrenheit and Celsius.
Powered by a premium compressor, this wine cooler ensures a consistent and precise temperature control by circulating cold air uniformly throughout the entire unit. This guarantees an optimal environment for your wine collection.
Experience the convenience of our superior beech wood racks, designed to effortlessly slide out to 90%, facilitating easy stacking of wine jugs. Reinforced with durable steel fronts, these racks strike the perfect balance between strength and delicacy, ensuring the safety of your wine collection and preserving the integrity of your wine labels. Elevate your wine storage with the LanboPro stainless steel twin-zone wine cooler, where sophistication meets functionality.
UV-resistant tinted tempered glass
Doors are equipped with a safety lock and key
Quiet and vibration-free cooling
Unique front-venting heat dispersion system
2. FOOING 24 inch 46 Bottle Dual Zone Wine Refrigerator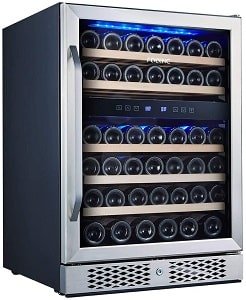 Features
Dimensions:38 x 28 x 27 inches

Weight: 103.8 pounds
Capacity: 46 bottles
Built-in or freestanding capable
Accurate Digital Thermostats
Reversible Door
The Fooing 24-Inch Built-In Dual Zone 46 Bottle Wine Fridge is equipped with intelligent temperature controls, offering precise temperature management for your wine collection. To ensure optimal wine storage, maintaining temperatures between 40-50 degrees Fahrenheit (F) or 50-66 degrees Celsius (C) is crucial.
Enhanced with a charcoal filter and a silent compressor fan cooling system, this wine fridge ensures even air distribution, safeguarding your wine from oxidation. The unit features robust steel racks capable of securely holding your collection, complemented by custom-made beech wood racks designed to preserve your wine labels.
Selecting a keyhole heading is a matter of personal preference; the Fooing wine fridge is designed to be user-friendly, reversible, compact, and adaptable to your specific needs.
The double-paned, thermally treated glass doors are excellently insulated, providing efficient temperature regulation. Additionally, an anti-UV coating on the glass prevents wine oxidation due to light exposure.
For added security, the Fooing dual-zone wine cooler is equipped with a child lock and key system, ensuring that children cannot access any inappropriate household items. Invest in the Fooing wine fridge for a combination of advanced features and secure storage for your valuable wine collection.
Stainless Steel Door Handle
Includes a carbon filter
Blue interior LED light
Digital temperature controls
3. Lanbo 133 Bottle Built-in Dual Zone Wine Cooler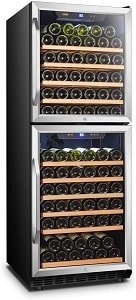 Features
Dimensions: 26.8 x 23.4 x 64 inches

Weight: 61.7 pounds
Capacity: 133 bottles
Vibration-free compressor cooling
Separate door for each zone
Built-in or Freestanding Versatile
Impressively accommodating up to 133 bottles, the Lanbo dual-zone wine cooler stands out as an ideal storage solution for those seeking to preserve two distinct types of wine. Featuring independent doors and computerized control panels for each zone, this wine cooler ensures optimal storage conditions.
Switching between Celsius and Fahrenheit is effortless with a simple touch of a button on either control panel. The convenience of monitoring your wine collection without opening the door is made possible by UV-resistant glass and a robust stainless steel frame. This combination effectively keeps dust and moisture at bay while allowing an unobstructed view of your valuable bottles.
Ease of access is further enhanced by the 11 detachable, beech wood shelves that effortlessly stretch and lock into place. The temperature range of each zone, spanning from 41 to 64 degrees Fahrenheit, caters to the preservation needs of a wide variety of wines. Bright white lighting in each section is thoughtfully designed to accentuate and showcase the beauty of your wine collection.
Safety features include a lock for each section and double-paned glass doors that help maintain the ideal temperature for diverse wine varieties. The wine cooler's sleek black exterior, silver-coated steel construction, and earthy external glass contribute to its overall aesthetic appeal, making it a stylish addition that elevates the ambiance of any kitchen or living space.
Compact and elegant design
Quiet and vibration-free operation
Individual Digital Control Panel

Temperature range of both zones is 41℉ to 64℉
Large storage capacity
No reversible door
4. Zephyr Presrv 21 Bottles Dual Zone Wine Cooler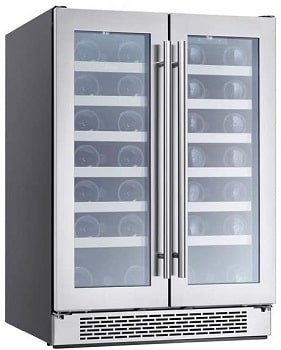 Features
Dimensions: 35.1 x 22.1 x 20.3 inches

Weight: 61.7 pounds
Capacity: 26 bottles
Efficient Cooling System
Adjustable Leveling Legs
304-grade Black Stainless Steel

Electronic Capacitive Touch Controls

Carbon Filter Air Filtration

3-Color LED Lighting in Cloud White, Deep Blue and Amber
Best Thermoelectric Wine Coolers
In comparison to condenser units, the best thermoelectric wine coolers stand out for their significantly quieter operation. This is partly due to their smaller size, which is currently constrained by the limitations of the technology.
Apart from the fan, this device comprises no moving parts; instead, the Peltier effect takes charge of transferring heat from the interior to the exterior. This translates to fewer miles traveled for your energy consumption. Moreover, these wine coolers are more environmentally friendly than compressor units, as they eschew coolants or refrigerants. Not only are they lighter, but they also require more space to optimize their performance.
It's important to note that their efficacy is contingent upon the ambient air temperature, making them less suitable for use in extremely hot climates. This consideration underscores the importance of choosing the right wine cooler based on your specific environmental conditions.
1. Koolatron 20 Bottle Thermoelectric Wine Cooler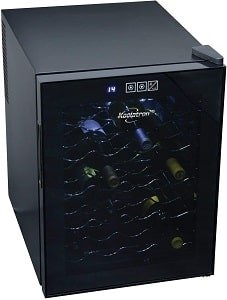 Features
Dimensions: 15.75 x 20.25 x 21.25 inches

Weight: 32 pounds
Capacity: 20 bottles
5 Removable Shelves
External digital display
Experience the epitome of wine storage with the Koolatron, a sophisticated wine cooler designed to accommodate up to twenty bottles. Utilizing cutting-edge thermoelectric cooling technology, this appliance not only ensures optimal temperature control but also boasts a sleek and stylish aesthetic.
Elevating its elegance, the wine cellar is adorned with tempered mirror glass doors and soft interior lighting, creating an ambiance that complements the sophistication of your wine collection. The detachable wire shelves within the cooler can house standard-sized 750 ml (25 oz) wine bottles alongside an additional 20 bottles of varying sizes.
Planning a grand celebration? Prepare for your event seamlessly by guaranteeing that every bottle is chilled to perfection before your guests arrive. The Koolatron 20-bottle wine cooler excels in cooling performance, courtesy of its expansive twin thermoelectric unit.
Take control with ease using the high-tech touch controls and LED display, allowing you to fine-tune the temperature within the chilling chamber, ensuring each vintage is stored at its optimum temperature.
For optimal performance, position your wine cellar in the coolest part of the room, away from direct sunlight, and clear of any heat-generating appliances. Trust in the Koolatron to not only preserve but also showcase your wine collection in the best possible light. Elevate your wine storage experience with this premium appliance.
External touch control panel

Attractive mirrored glass door
Soft interior lighting

Freestanding and countertop capable
Small storage limit
No child lock
2. NewAir 32-Bottle Dual Zone Thermoelectric Wine Cooler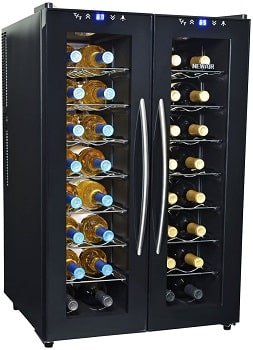 Features
Dimensions: 20.5 x 21.5 x 32.25 inches

Weight: 69 pounds
Capacity: 32 bottles
Dual Zone Cooling System
14 chrome-plated wire shelves
The NewAir AW-320ED, a two-zone thermoelectric wine cooler, presents the ideal solution for discerning wine enthusiasts aiming to store red and white wines at their optimal temperatures.
Each individual area can be precisely set between 46 and 66 degrees Fahrenheit, thanks to the complete separation from other zones, providing tailored climate control for your wine collection.
The thermoelectric cooling framework ensures a near-silent and vibration-free operation, making it an excellent choice for wine storage that prioritizes preservation.
Modern and user-friendly touch controls are conveniently located on the exterior of the cabinet. This design allows for easy visibility and adjustment of settings without the need to open the doors, ensuring minimal temperature fluctuations.
To safeguard your wine from harmful ultraviolet rays, the cooler features double-paned glass doors and chrome-lined, slide-out racks. This thoughtful design not only protects the integrity of your wine but also adds an extra layer of sophistication.
Enhancing the overall aesthetic, the sleek black design is complemented by chrome pulls and dual LED lights inside, adding a touch of life and elegance to your wine storage experience. Experience the perfect blend of precision, convenience, and style with the NewAir AW-320ED wine cooler.
Dual-zone thermoelectric cooling system

Exterior individual digital temperature control panel

Cool blue LED lighting
Tempered glass doors 
No lock and key
Little bit noise
3. SPT 16 Bottles Thermoelectric Wine Cooler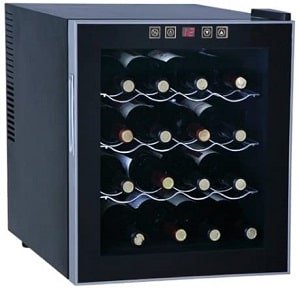 Features
Dimensions: 19 x 20 x 17 inches

Weight: 33 pounds
Capacity: 16 bottles
As the most space-efficient wine cooler on our list, the SPT 16 Bottles Thermoelectric Wine Cooler stands out as the budget-friendly choice. Ideal for wine enthusiasts, this compact cooler can accommodate up to 16 bottles, offering versatility in placement throughout your space.
Setting the SPT wine cooler apart is its temperature range, adjustable between 52 and 65 degrees Fahrenheit. This flexibility ensures optimal conditions for preserving your wine collection.
The exterior of the wine cooler door features an LED display with capacitive touch operation. With a single touch, you can effortlessly check the current temperature and make adjustments as needed.
For convenient storage, the cooler is equipped with three retractable chrome racks, simplifying the organization and retrieval of your sixteen bottles of wine. Compact, efficient, and affordable, the SPT 16 Bottles Thermoelectric Wine Cooler caters to the needs of both novice and seasoned wine enthusiasts alike.
Adjustable thermostat
Exterior touch control panel
3 slide-out chrome shelves
No safety lock
No LED lighting
4. Koolatron 10 Bottle Vibration-Free Thermoelectric Wine Cooler
Features
Dimensions: 10 x 20.25 x 22 inches

Weight: 12.77 pounds
Capacity: 10 bottles
Vibration-free Cooling System
Attractive mirrored glass door
Eco-friendly thermoelectric technology

Temperature range 46-66°F

Soft interior lighting
Touch screen controls
Best Compressor Wine Coolers
Wine coolers equipped with compressors operate in a manner similar to standard refrigerators, effectively chilling your bottles. The process involves a refrigerant being compressed, cooled, and then allowed to expand. An electric compressor, akin to the one found in household refrigerators, facilitates this compression.
Consequently, some noise and vibration may be present, akin to what you'd experience with a typical home cooler. Nevertheless, this technology is proven and reliable in every aspect. A well-designed compressor cooling system should demonstrate effectiveness across a broad range of ambient temperatures.
What sets compressor wine coolers apart is their versatility in venting direction. They can be redirected to vent in any direction, making them ideal for installation in cabinets or under counters.
For those seeking a built-in wine cooler, opting for one with front ventilation is advisable. Compressors are commonly utilized in the majority of dual and multiple zone wine chillers, ensuring optimal performance.
1. Sinoartizan 33 Bottle Single Zone Compressor Wine Cooler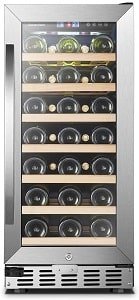 Features
Dimensions: 25.3 x 15 x 34.4 inches

Weight: 73.9 pounds
Capacity: 33 bottles
Built-in or freestanding capable
Smart Touch Control
Silent and No Vibration
With its versatile installation options, whether below-counter or freestanding, the Sinoartizan compressor wine cooler stands out for its exceptional value within a compact footprint.
The tempered steel-reinforced glass door, with its colored outer layer, serves as the primary defense against external pressures, effectively blocking harmful UV rays and intense glare.
The detachable racks, equipped with convenient carrying handles, ensure easy mobility, allowing you to effortlessly relocate them as needed.
Soft interior illumination is provided by the white LED lighting, not only showcasing your wine collection but also adding to its visual allure. To safeguard the wine from overheating, the light automatically turns off after 10 minutes of illumination.
Featuring a secure door, this wine cooler ensures that your valuable wine collection remains protected from inquisitive hands.
The compressor technology employed by this wine cooler enables a broad temperature range, from 41 to 64 degrees Fahrenheit. The advanced thermostat settings can be easily adjusted using the intuitive control panel.
Natural automatic moisture cycle
High energy-efficiency refrigeration
Longer life expectancy
Ideal storage environment for storing and aging the wine
2. Phiestina 46 Bottle Dual Zone Compressor Cooling Wine Cooler
Features
Dimensions: 23.4 x 33 x 22.4 inches

Weight: 102 pounds
Capacity: 46 bottles
Built-in or freestanding capable
Advanced compressor cooling
Reversible door hinge
Rest assured that your wine will be kept at the perfect temperature in this innovative Phiestina wine cooler, featuring a unique compressor and air channel design. This ensures that chilled air is discreetly circulated to both sides of the cooler, allowing you to enjoy your drinks without any constraints.
No more guesswork when it comes to temperature settings. The Phiestina wine cooler offers the flexibility of both Fahrenheit and Celsius options, ensuring that your wines and other beverages are maintained at their optimal temperatures. The upper zone is cooled to a crisp 40-50 degrees Fahrenheit, while the lower zone maintains a refreshing 50-60 degrees Fahrenheit.
For efficient heat dissipation without leaving the cabinet door open, a vent is strategically placed in the kick plate at the front of the cabinet.
Elevate your style with the addition of a kick plate. The saying "Kick plate, no kick plate box!" holds true – aligning the base of your wine cooler with the kick plate of your cabinets adds a touch of luxury to your aesthetic.
The stainless steel entrance and clear glass design not only enhance the overall appeal but also make this wine cooler adaptable to a wide range of kitchen and home renovations. Upgrade your space with Phiestina's thoughtful and stylish wine cooler.
Reversible door
Higher energy efficiency
High-tech compressor cooling
Touch control panel
3. MOOSOO 24 Inch 51 Bottle Compressor Wine Refrigerator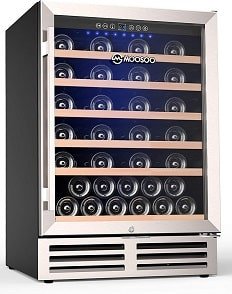 Features
Dimensions: 23.43 x 22.64 x 34.26 inches

Weight: 110.2 pounds
Capacity: 51 bottles
Constant Temperature
Carbon Filter
ETL Certificated
Experience unparalleled conditions for your wine collection with the MOOSOO Compressor Wine Fridge. This innovative appliance replicates the meticulous environment of a traditional wine cellar, catering to the nuanced needs of your wines. Notably, it seamlessly operates in both Fahrenheit and Celsius, providing flexibility for diverse preferences.
Illuminate your collection with soft blue LED lights gracing the interior, offering an elegant display while allowing you to monitor the temperature without opening the door. The cabinet's design incorporates convenient storage space beneath the desk and a five-level rack, accommodating up to 51 bottles of "Regular Bordeaux" wine.
Setting the perfect temperature is a breeze with the intuitive touch controls and advanced temperature display, ensuring optimal conditions for your wines. The fridge boasts a remarkable feature — maintaining a consistent temperature memory. Even after a power cycle, the appliance restores the last temperature setting, enhancing the tranquility of your wine tasting experiences.
Included with the MOOSOO wine chiller is a thoughtful bundle featuring a wine tool, corkscrew, and two corks designed for high-end bottles. This comprehensive package sets MOOSOO apart, showcasing an unparalleled commitment to customer satisfaction.
Enjoy flexibility in arrangement with adjustable soles, allowing you to freely adjust the height within a 5 cm range. This not only accommodates bottles of varying sizes but also prevents vibrations that may affect the wine due to bottle asymmetry.
Enhance security and control with the keyed safety lock, ensuring that only authorized individuals can access the storage space. This feature not only safeguards your collection but also allows you to verify the wine cooler's functionality, prevents light exposure, and protects against the curiosity of young children, reducing the risk of broken bottles. Invest in the MOOSOO Compressor Wine Fridge for a harmonious blend of technology, convenience, and preservation for your prized wine collection.
Intelligent Temperature Control
Elegant appearance
Adjustable Feet
100% Pulled Out Shelves
4. Ivation 28 Bottle Compressor Wine Cooler Refrigerator 
Features
Dimensions: 17.7 x 16.9 x 33.1 inches

Weight: 49.6 pounds
Capacity: 28 bottles
Energy Efficient
41°F to 64°F temperature range
Utilizing an advanced compressor chilling system, our wine coolers are designed to maintain the distinctive and delicate taste of rare vintages. Safeguard the recommendations of winemakers for your collection by ensuring a consistent temperature and humidity, all while preventing the intrusion of harmful UV rays.
Take control with the touch of a button on the digital display, allowing you to adjust the thermostat and illuminate your collection with ease. The LCD display ensures readability even in low-light conditions, ensuring you can always check the thermometer effortlessly.
Ivation wine coolers feature a unique fan structure that facilitates silent operation while efficiently distributing air throughout the unit. Rest assured that the temperature will remain steady across the entire cooler, ensuring optimal conditions for your valuable collection.
With adaptable shelves accommodating changes in container sizes, your diverse collection, ranging from pinot noir to champagne, will be well-preserved over time. Illuminate your collection gently and efficiently by switching on the energy-efficient LED lights, bidding farewell to harsh bulbs that can distort labels and impact flavors.
The compressor technology employed in Ivation wine coolers guarantees temperature stability, unaffected by ambient heat. This technology ensures that your wine is transported at sufficiently low temperatures, preserving the intricate aromas and flavors of sparkling white wines. Invest in the excellence of Ivation wine coolers for a sophisticated and reliable storage solution for your cherished wine collection.
Efficient compressor cooling system

The vibration-free operation will not disturb the sediment.

Temperature Stability
UV-Resistant Thermopane Glass
Best Built-in Wine Coolers
A seamlessly integrated addition to your kitchen, a built-in wine cooler discreetly resides beneath your countertop, ensuring a tidy and unobtrusive appearance. With this setup, savoring the delightful flavors of your favorite wine is just a reach away.
Subterranean wine refrigerators effortlessly find their place within or beneath various furniture pieces, seamlessly blending into the kitchen environment and presenting a challenge when it comes to relocating them.
Preferred by enthusiasts of wine service and connoisseurs who appreciate sophisticated aesthetics, built-in or under-the-counter wine coolers contribute to a sleek and polished kitchen ambiance.
Choosing the ideal built-in wine cooler involves a meticulous consideration of your available space and determining the most suitable location for installation. This ensures not only a functional addition but also an enhancement to the overall visual appeal of your kitchen.
1. Nictemaw 32 Bottle Dual Zone Built-in Wine Refrigerator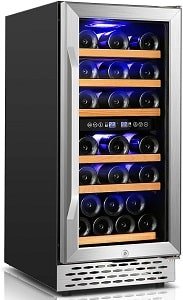 Features
Dimensions: 15 x 23 x 33.5 inches

Weight: 77 pounds
Capacity: 32 bottles
Soft LED Light
Stainless Steel Edging Design
Nictemaw's built-in wine chiller stands out with its sleek and unobtrusive design, making it an ideal choice for individuals with smaller wine collections. Its versatility in placement is a notable feature, allowing users to either attach it to kitchen cabinets or leave it freestanding. This compact design is especially advantageous for apartment dwellers or anyone looking to optimize personal space.
While the unit accommodates a modest 15 bottles, its six wooden racks can securely hold up to 32 of your finest selections. The inclusion of two distinct chill zones makes it an excellent choice for both long-term storage and regular enjoyment of red and white wines.
The upper section maintains an ideal temperature range of 41°F to 55°F, perfect for white wines, while the lower zone ensures red wines are cellared between 55°F and 65°F. Even in the event of a power outage, there's no need to worry about improper storage, as this cooler will automatically restart at the last used temperature settings.
Also Read: Best 12 Bottle Wine Coolers
The cooling mechanism, based on a compressor, operates with minimal noise and vibration. This is crucial, as excessive vibration has the potential to disturb sediment in wine bottles, affecting both aroma and flavor. Nictemaw's cooler effectively mitigates both noise and vibration-related concerns.
Enhancing the overall experience, the LED lighting within the wine cellar ensures a gentle illumination, avoiding harsh and glaring lights that could potentially compromise the quality of your wine. The double-paned glass doors further contribute by keeping harmful UV rays at bay.
While it may not be the most budget-friendly option in the implicit wine cooler market, Nictemaw's built-in wine chiller stands out as one of the very best choices for those seeking quality within a tight budget.
The low operating noise of 42 dB
Built-in circulation system with fans
Carbon Filter System
Adjustable Foot Cup
2. Phiestina 29 Bottle Under Counter Wine Cooler Refrigerator
Features
Dimensions: 14.9 x 22.4 x 33.9 inches

Weight: 72 pounds
Capacity: 29 bottles
Reversible door hinge

Whisper Like Performances!
Experience unparalleled value with the Phiestina built-in wine chiller, a reliable choice that may come with a steep price tag, but its exceptional features make it well worth the investment. Act swiftly, and you can enjoy substantial savings on this premium appliance.
An early decision awaits you – determine whether this wine cooler will grace the confines of a kitchen cabinet. Its front vent design ensures optimal ventilation, preventing the unit from overheating. Remarkably, the absence of stringent installation requirements grants you the flexibility to place it wherever suits your preference. Achieve a seamless aesthetic in your kitchen as the kick plate is meticulously crafted to snugly fit beneath your base cabinets.
Tailor the appearance to your liking with the reversible door entrance, allowing you to integrate it harmoniously with your kitchen's design. Benefit from the efficient compressor-based cooling, delivering outstanding energy efficiency without compromising on noise or vibration. In contrast, thermoelectric wine coolers fall short in this regard, as they may not guarantee the same quiet operation.
Also Read: Best Coldest Beer Fridge
For the serious wine connoisseur, the dual zones cater to both red and white varietals. In the upper zone, swiftly chill whites within the range of 40 to 50 degrees Fahrenheit. Meanwhile, the lower zone offers an ideal environment for red wines, maintaining temperatures between 50 and 66 degrees.
While a minority of users have expressed concerns about potential temperature inconsistencies over time, our evaluation suggests that this issue is more prevalent in many lower-priced wine coolers. For those not delving into the higher price range, definitive answers may be elusive. On the whole, we observed widespread and significant customer complaints about this wine cooler, indicating potential drawbacks to consider.
5 removable shelves
Front vent from kick plate
Higher energy efficiency
Temperature is not stable
3. Aobosi 24 Inch Built-in Beverage and Wine Cooler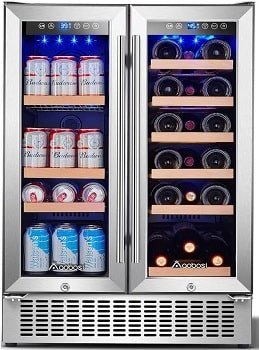 Features
Dimensions: 38.5 x 27 x 27 inches

Weight: 134.5 pounds
Capacity: 18 bottles and 57 cans
Dual temperature control
Security lock on both door
Introducing another entry from Aobosi, our featured model this time is a compact yet open design, making it an excellent addition to the top tier of built-in wine coolers.
Ideal for spacious kitchens, this chiller boasts a width of approximately 24 inches, offering ample storage for up to 57 cans of soda and 18 bottles of wine.
On the left side of the unit, you'll find wire shelves dedicated to bottled drinks, maintaining temperatures between 36 and 50 degrees Fahrenheit. The right side features wooden shelving, providing an elegant display for your wine collection while safeguarding the labels. The temperature for this section can be adjusted between 41 and 64 degrees Fahrenheit, allowing flexibility within the overall cooler temperature range.
With a noise level measuring under 42 decibels, you can enjoy the preservation of your wine collection without any bothersome commotion or vibration.
Versatility is a key feature of this fridge, as it seamlessly works as both a built-in and freestanding unit. This flexibility is especially valuable for those dealing with limited space.
While this built-in wine cooler continues Aobosi's tradition of quality, it's important to note that a small number of customers have expressed dissatisfaction with the packaging. We recommend a thorough inspection of your package upon delivery until any potential quality control issues are resolved.
Overall, Aobosi's built-in wine cooler is a testament to the company's enduring reputation. Whether you aim to discreetly store your wine collection or keep a selection of beverages close at hand, this model is a reliable and stylish choice.
2-IN-1 Wine and Beverage Cooler
Chill red and white wines
Independent zone controls
Adjustable feet
4. BODEGA 15 Inch 31 Bottle Front Vent Built-in Wine Fridge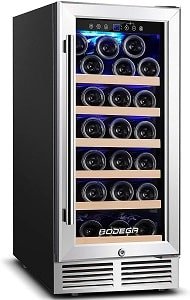 Features
Dimensions: 37 x 26.5 x 19 inches

Weight: 93.8 pounds
Capacity: 31 bottles
Smart Digital Control
Anti-UV Function
Discover unparalleled cooling efficiency, tranquility, and vibration control in our Bodega-style built-in wine cooler — a matchless blend of sophistication and functionality.
Tailored for aficionados of a particular wine variety, our single-zone wine cooler is an impeccable choice. Beyond its primary function of cooling, this cooler excels in extended storage, allowing you to safely preserve a diverse collection of mixed wine bottles.
Effortlessly accommodating up to 31 bottles, the cooler boasts six durable hardwood shelves. An oversized rack, specifically designed for larger jugs, adds versatility, ensuring the safe storage of an extensive array of wines without the risk of damage or the need for frequent rearrangement.
Compact yet capacious, with a mere 15-inch width, this wine cooler proves to be a valuable acquisition for apartment residents or those contending with a confined kitchen space. Reliably storing your wine has never been more accessible.
While the overall customer feedback remains overwhelmingly positive, a recurring theme surfaces regarding the arrangement of the racks. Some users have expressed concerns about the proximity of the racks, suggesting a tight fit for containers. Our commitment to continuous improvement encourages us to address this feedback for an even more satisfying user experience.
Carbon Filter System & Smart Sensor
Built-in high-quality compressors
Adjustable Feet
Double-layered Tempered Glass Door
Built-in safety lock
Best Freestanding Wine Coolers
Reputable wine coolers offer the flexibility of functioning as freestanding units, providing the freedom to place them in any preferred location. If opting for the installation of a thermoelectric cooler beneath a kitchen counter, ensure adequate clearance for optimal airflow.
For those embarking on the journey of building a wine collection, the standalone unit proves to be a favorable choice, given its more accessible entry price and straightforward installation process. Additionally, there is a variety of beginner-friendly ledge wine cooler options available to cater to individuals at the early stages of their wine storage experience.
1. AIDUODA 24 Bottle Countertop Freestanding Wine Cooler
Features
Dimensions: 18.5 x 17.3 x 26.8 Inches

Capacity: 24 bottles
Quiet Cooling
Built-in soft LED light
Enhance the elegance of your home with a meticulously crafted countertop wine cooler, seamlessly blending aesthetics with the secure storage of your cherished wine and Champagne collection.
Effortlessly manage the cellar's climate using the intuitive digital temperature control panel, allowing you to set temperatures within the optimal range of 39 to 72 degrees Fahrenheit. This ensures that your wine is consistently preserved in an environment conducive to its finest qualities.
For those with a dedicated wine cellar, it is essential to incorporate a cutting-edge compressor cooling system. This system operates with a whisper-quiet efficiency, ensuring a constant temperature within the cellar for the impeccable aging of your wine collection.
The utilization of double-pane tempered glass in the door serves a dual purpose, maintaining a cool and dry internal environment for your wine cabinet. This innovative design feature contributes to the longevity and quality of your wines.
Immerse yourself in the charm of the retro-inspired corner layout, adding a touch of sophistication to your living space. The visually appealing piece of furniture is accentuated by soft, diffused LED lighting that enhances transparency without compromising the integrity of your wine collection. Elevate your home with this aesthetically pleasing and functionally superior countertop wine cooler.
Wide temperature range
Modern and elegant look
Soft interior lighting
Digital touch control panel
Adjustable wire shelves
Single zone
No lock and key
2. Schmecke 18 Bottle Freestanding Wine Cooler Refrigerator
Features
Dimensions: 17.72 x 13.58 x 30.31 inches

Weight: 43 pounds
Capacity: 18 bottles
Efficient compressor cooling system 
Temperature range of 41º – 64ºF
Carbon Filter System & Smart Sensor
Built-in high-quality compressors
Adjustable Feet
Double-layered Tempered Glass Door
Built-in safety lock
3. Whynter 92 Bottle Freestanding Wine Refrigerator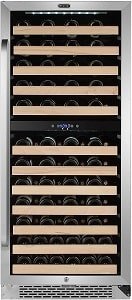 Features
Dimensions: 23.5 x 22.25 x 54.75 inches

Weight: 159 pounds
Capacity: 92 bottles
Reversible door swing
Cylinder lock and two keys
Adjustable thermostat for both zones
Luxurious curved handlebar
12 removable wooden flat slide out shelves
Environmentally friendly refrigerant
Internal fan-forced circulation
No temperature memory function
4. WIKIVINO 15 Inch 33 bottles Freestanding Wine Fridge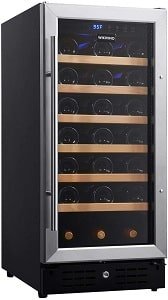 Features
Dimensions: 15 x 22.5 x 34.25 inches

Weight: 95 pounds
Capacity: 33 bottles
Temperature Range: 41º to 68ºF
ETL certified
Introducing the WIKIVINO Freestanding Wine Cooler, meticulously crafted to adhere to NSF-7, ETL-S standards, and UL Commercial Guideline 471.
Every detail of WIKIVINO reflects a commitment to excellence, from the LED lighting buttons to the removable oak shelves, stainless steel handles, and accommodating storage for 33 bottles.
The glass door, reversible for flexibility, features an elegant steel trim and a professionally designed handle, accompanied by a factory-installed lock for heightened security.
Inside, six wooden pull-out shelves offer versatile storage, accommodating up to 33 Bordeaux or Burgundy bottles, with the option to utilize the lower space for champagne storage.
Also Read: Top 10 Commercial Wine Chillers.
Effortless temperature control is at your fingertips with the smart interior thermostat, while the recessed LED lighting ensures a clear view of your collection.
Thanks to automated defrosting technology, bid farewell to seasonal defrosting concerns, ensuring consistent temperature performance year-round with minimal annual maintenance.
The digital thermostat provides precise and convenient temperature control within the range of 41 to 68 degrees Fahrenheit.
Enhancing the aesthetic appeal, the glass door boasts polished stainless steel molding, transforming it into a captivating centerpiece for any environment, be it the kitchen, a private club, or a commercial establishment. Elevate your wine storage experience with the WIKIVINO Freestanding Wine Cooler – where sophistication meets functionality.
Commercially approved
Gentle illumination with an on/off switch
Automatic defrost
Reversible door hinge
Digital thermostat
Best Small Wine Coolers
The compact size of portable wine coolers means that you can take just a few bottles of wine with you on any trip, whether you're going away for the weekend or several months.
Even the smallest wine coolers are available in a wide range of sizes, widths, price points, and styles. You basically get what you pay for, as is the case in most competitive retail settings.
If you choose a cheaper model, expect more noise. It's possible that cheaper models won't allow you to install it as the foundation or flip the door for a left or right entrance. Less costly pressing material is included with the cheaper units. It's also possible that you'll have less say over the thermostat.
At the higher price range, you get a better compressor and some aesthetically pleasing design elements like wood racks. You should also be given a phone number and a person to call if there are any problems or if you need a replacement part after the sale.
1. Antarctic Star 1.6cu.ft Small Mini Red & White Wine Cellar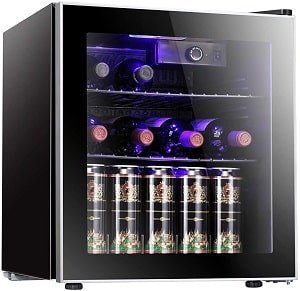 Features
Dimensions: 17.44 x 17.7 x 19 inches

Weight: 35.8 pounds
Capacity: 1.6 Cu. Ft 
Soft LED Light
Adjustable Temperature
With a capacity of 1.6 cubic feet, this Antarctic Star Smallest wine cooler is perfect for storing your favorite red or white wines as well as your favorite canned beers and other beverages.
The wire racking won't harm your wine, and it will free up valuable floor space.
This beverage chiller offers a timeless and modern design, thanks to its built-in glass door and water- and air-tight seal, which keep sticky substances at just the right consistency.
Blue, low-heat LED illumination inside is both aesthetically pleasing and safe for the wine.
Having access to a wine cooler gives you the freedom to keep your wine at the perfect temperature and humidity for aging. You may adjust the temperature between 40 and 61 degrees Fahrenheit while it's functioning.
equipped with a silent, high-quality cooling system that maintains the ideal temperature of your beverages. without adding stress to the natural flow of events. Featuring black adjustable shelving, a glass door, and height-adjustable legs, this unit is ready for use.
Stainless steel Shelves
Efficient Cooling System
Dual-Pane Glass Door
Low noise and vibration
2. EdgeStar 6-Inch 7 Bottle Built-In Compact Wine Cooler
Features
Dimensions: 20.38 x 5.81 x 34.31 inches

Weight: 42 pounds
Capacity: 7 bottles
Slim-Fit installation
Temperature range of 40-65°F
You can store up to seven bottles of your favorite vintages safely and securely in this 6-inch built-in wine cooler from EdgeStar. This small wine cooler is perfect for small kitchens, apartments, and homes with few things. It can turn even the smallest space into a stylish wine nook.
The EdgeStar compact wine cooler's accommodating temperature range of 40–65 °F allows you to preserve a wide range of wine varieties at their appropriate serving temperatures.
The high-efficiency compressor and inner core fan of this wine cooler keep the interior of the bureau at a constant, comfortable temperature and free of dust and other contaminants.
The state-of-the-art touch control panel makes it possible to make instant changes to both the temperature and the blue interior lighting.
Your most prized containers may rest easy in this unit, as the tinted glass door features black flecks that help prevent unwanted damage caused by bright beams.
This unit's entrance can be switched around to provide a snug and beautiful fit in any room, whether that's due to personal preference or simply keeping up with the latest trend in cabinets.
With the blue LED lighting inside, you can make a beautiful show that your guests won't be able to stop looking at.
Elegant and compact design
High-Efficiency Compressor
Digital control panel
Reversible door hinge
Blue LED interior lighting
3. Wine Enthusiast 6-Bottle Countertop Smallest Wine Cooler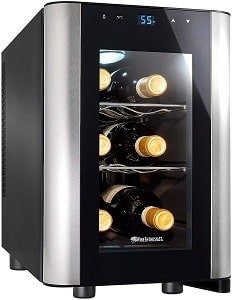 Features
Dimensions: 14.7 x 9.5 x 19.7 inches

Weight: 8 pounds
Capacity: 6 bottles
Lowest Temperature 46 Degree F
Easy-to-use digital touchscreen 
The Wine Enthusiast Smallest Wine Cooler can hold up to six standard-sized bottles of wine and is perfect for small collections of wine by people who know a lot about wine.
The metal shelves on the interior keep the jugs in place and provide users with easy access and visibility while selecting the perfect wine.
Control the internal temperature of your wine collection with the press of a button on the front-mounted touchscreen. The data is always clear thanks to the temperature display that is driven.
This mini wine fridge, which employs state-of-the-art solid-state cooling technology, complies with the most recent energy efficiency regulations set out by the United States Department of Energy.
These wine refrigerators are efficient and quiet, and they maintain consistent temperatures. The coldest temperature that may be set in this cooler is 46 degrees Fahrenheit.
The little wine cooler is stylish and compact, perfect for the kitchen or basement.
Small in size
Easy to use control panel
Energy efficient
Lowest temperature 46 degrees F
4. BLACK+DECKER Small Wine Cooler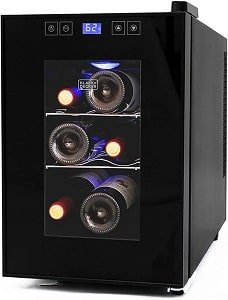 Features
Dimensions: 19.8 x 9.7 x 14.9 inches

Weight: 17.6 pounds
Capacity: 6 bottles
Temperature Range of 46-65 degrees Fahrenheit

Recessed handle
When wine is served at the ideal temperature, it makes for a fantastic evening. Consider purchasing the BLACK+DECKER 6-Bottle Wine Cooler to ensure a string of memorable evenings.
The wine cellar has nothing on this standalone countertop unit. Brilliant and functional, appealing and functional.
The recessed door handle is a nice design touch. The height of this wine cellar may be adjusted according to personal preference thanks to its adjustable straight legs.
The remaining aesthetic element is the black bureau with dark trim. Put that wine cellar of yours on display in the living room. Your wine cellar will look lovely and add to the decor wherever you decide to put it, even the kitchen.
The thermoelectric cooling system provides a serene environment for this device. You may use it between 46 and 65 degrees Fahrenheit. The decibel level of the noise is 38, according to European standards.
Quiet Thermoelectric Cooling System

The flat back design is a space-saver

2 Chrome Slide-out Wine Racks

Adjustable leveling legs

The triple-pane glass door helps maintain optimal cooling
Best Large Wine Coolers
To properly maintain your extensive wine collections over the long term, you'll need a wine cooler of sufficient size. Huge wine refrigerators provide plenty of room for dozens of bottles.
Large wine coolers are those that can hold more than 100 bottles. Big wine fridges aren't much deeper, but they're very tall and can hold a lot more wine.
Compressor cooling systems are used in the construction of nearly all wine coolers with significant capacities. Cooling all of your wines in a huge wine cooler needed a high-end compressor system.
These wine refrigerators may be installed in a cabinet or used independently, and they come in single- and two-zone configurations.
1. Colzer 154 Bottle Large Wine Cooler Refrigerators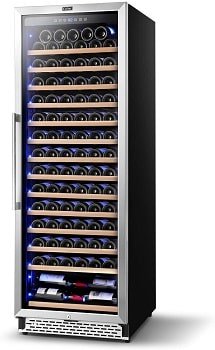 Features
Dimensions: 23.7 x 27 x 67 inches

Weight: 207 pounds
Capacity: 154 bottles
Energy efficient

Carbon filter
By conserving less energy, this Colzer Large Wine Cooler does its part to protect our planet. There is a reduction in energy consumption of up to 55% when compared to common wine coolers.
This huge wine cooler's double-paned glass door makes it easy to see your impressive collection while also providing protection from harmful UV rays from the sun.
There are 14 beech wood shelves within this massive wine refrigerator. It has a tremendous capacity for storing large containers and can carry as many as 154 ordinary Bordeaux jugs of 750 ml each.
The carbon filter makes sure that the right amount of humidity is kept in the office so that natural air can flow freely.
If you accidentally turn off the power, the temperature memory feature will keep it at the last setting you used.
Double-pane glass door
High-Quality compressor
Low energy consumption
14 Removable shelves
Safety lock
2. EdgeStar 24 Inch Wide 141 Bottle Large Capacity Wine Cooler

Features
Dimensions: 26.56 x 23.44 x 69.44 inches

Weight: 225 pounds
Capacity: 141 bottles
Temperature range from 40 to 65°F 

Dual-zone cooling
There's a maximum of 141 bottles that may be kept chilled in this EdgeStar large capacity wine cooler. This unit has a door made of tempered steel and a handle made of hardened steel that is bigger than usual. It looks and works very well.
This EdgeStar model comes with 14 metal doors that have a wooden front accent. When all 14 compartments are filled, it has enough room for more than 141 bottles of wine using normal dimensions.
With amazing flow fans and a compressor, cooled air is spread evenly throughout the room, so you'll never have to worry about hot spots or uneven cooling again.
The unit may be placed almost anywhere in the house due to the reversible door. A real key lock that matches the rest of your collection is included to give you peace of mind.
Soft LED illumination illuminates the inside, making it easy to make a selection. Adjustable feet make it simple to get this device to sit perfectly level in a room or on its own.
Reversible door
Built-in or freestanding use
14 sturdy metal roll-out shelves
Adjustable leveling legs
Powerful circulation fans
3. Allavino Flexcount 177 Bottle Large Wine Refrigerator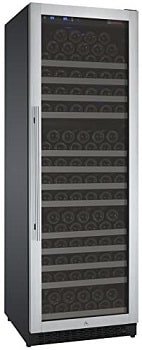 Features
Dimensions: 27 x 23.5 x 71.5 inches

Weight: 304 pounds
Capacity: 177 bottles
Temperature Range of 41-64 degrees Fahrenheit
Curved and Towel Bar Handles
Allavino's modern single-zone wine cooler refrigerator can accommodate 177 bottles of wine, regardless of size.
Unlike similarly sized wine refrigerators, this one has thoughtfully designed racks made of solid metal that are strong enough to prevent listing but also delicate enough to provide extra breathing room for your wine bottles.
The extra space allows for larger containers to be stored without going over the bottle limit, making this unit great for storing a wide variety of wines.
Wooden bracing helps reduce vibration, and the attractive treated steel front of each rack matches the glass door's hardened steel contour.
The huge wine cooler's temperature may be regulated low enough to preserve white or sparkling wine or high enough to store red wine, thanks to its high-tech showcase with push-button controls.
This fridge's front-venting design and finished sides and top make it equally at home as an elegant freestanding unit or as part of cabinets, bringing your kitchen's aesthetic together.
Innovative New Shelf Design
Stores More Bottle Sizes
Digital Temperature Control
Stylish stainless steel framed glass door
25% more energy efficient advanced cooling system
4. Lanbo 289 Bottle Single Zone Large Wine Refrigerator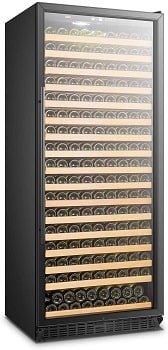 Features
Dimensions: 29.33 x 32.28 x 79.21 inches

Weight: 309 pounds
Capacity: 289 bottles
Temperature Range of 41-64.4 degrees Fahrenheit
Smart Digital Touch Control Panel 
This Lanbo large wine refrigerator must have a large front vent if it is to be built into a wall or used on its own.
The racks slide out on metal ball tracks, letting you easily connect any of your containers. If you need to stack taller containers, you may simply remove one or two of the shelves.
The proper wine storage temperature must be maintained. The wine cooler has a fantastic fan cooling system, so you can keep your unique collection of wines at the right temperature without worrying about them freezing up.
equipped with double-paned, heat-treated glass to prevent wine from losing its flavor due to exposure to light or temperature extremes. A door that can open in either direction is called a "reversible entrance."
Your collection will be safe from thieves and sneaky kids thanks to the built-in safety lock. Using a key in a keyhole that is a perfect hexagon is a breeze. Keep in mind that having two keys is preferable.
With the included high-tech control panel, you can tailor the interior temperature to your specific needs. The temperature may be adjusted between 41 and 64 degrees Fahrenheit. The °C/°F button makes converting between Fahrenheit and Celsius a breeze.
Built-in Key Lock
Tinted Glass Door
Quality & Removable Shelves
Digital Touch Control
Reversible door
Best Wine Coolers Brands
When it comes to wine chillers, the market is flooded with options. Every one of the company's illustrious label-carrying brands has developed its own unique plan for dominating the wine-chilling market.
Wine coolers from reputable brands are not necessarily of high quality. Some of the newest wine cooler brands are among the best on the market.
Our selection of the top wine chillers includes products from some lesser-known manufacturers that have shown themselves to be among the best on the market.
There are a lot of wine coolers out there, but we only included brands that we felt were worthy of being showcased on our site.