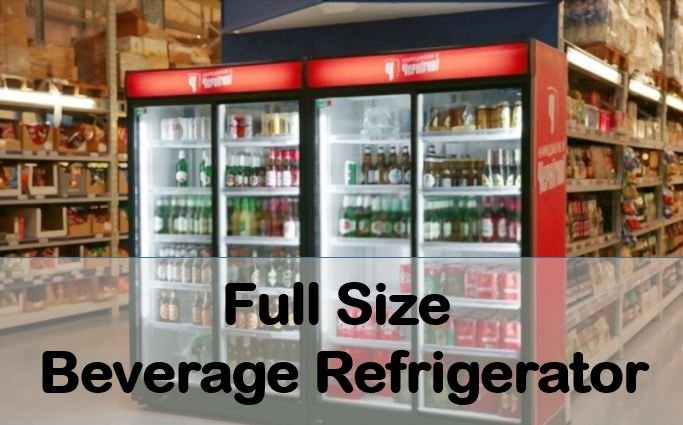 If you're on the hunt for the perfect full-size beverage refrigerator for your home bar or beverage shop, this guide is here to help you pick the right one.
A full-size beverage refrigerator is a must-have for both commercial and home settings.
Beverage fridges are fantastic for efficiently cooling your drinks and freeing up space in your main fridge. They're designed specifically for cans and bottles, so you'll never have to worry about finding room for your 12-pack of beer or soda. Plus, they're compact enough to fit well in most spaces, making them smaller than a regular-sized fridge.
What sets a beverage refrigerator apart from a regular fridge is its layout, which is tailored for storing bottles and cans.
Also Read: Best Commercial Fridge Reviews
These fridges aren't limited to just the kitchen; you can place them wherever it's most convenient and functional for your lifestyle.
In today's market, you'll find a variety of beverage refrigerators available in different sizes and capacities. Choosing the best one for your needs can be a bit of a challenge.
In this article, we've done a comprehensive review of the best full-size beverage refrigerators, considering factors like features, customer satisfaction, durability, and storage capacity. Our goal is to make your decision-making process easier and more informed.
Best Full Size Beverage Refrigerator Reviews
EdgeStar 14 Cu. Ft. full-size built-in commercial beverage merchandiser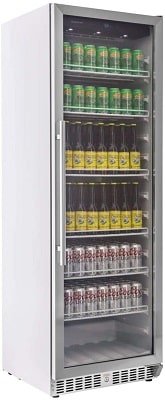 Features
Dimensions: 24.94 x 23.38 x 69.69 inches 
Weight: 159 pounds
Capacity: 14 Cu. Ft.
Excellent stable temperature
Built-in security lock
Introduce your beverage assortment in style and satisfy your customers with perfectly chilled drinks using the EdgeStar 14 Cu. Ft. Commercial Beverage Refrigerator. This refrigerator combines a smart design, a modern look, and solid construction, making it the perfect storage solution for your drinks.
This full-sized beverage refrigerator is certified to meet NSF-7 standards, ensuring it meets the strict requirements for use in commercial settings, such as food and beverage establishments.
Thanks to its suitability for under-counter placement, you can install it in tight spaces, against walls, or alongside other units, without worrying about ventilation, as it features front ventilation.
For added security against spoilage, a handy temperature alert will activate if the door is left open or if there's a power interruption.
You won't have to deal with uneven cooling or hot spots with this full-sized beverage cooler, as it uses a compressor-based forced air cooling system to evenly distribute cool air throughout the unit.
Keeping an eye on and adjusting the temperature of this unit is straightforward, thanks to the user-friendly control panel and LED digital temperature display.
Moreover, the internal LED lighting not only illuminates your drinks but also helps customers make their selections without emitting any harmful heat.
Pros
Intuitive digital display
Six removable wire shelves
Four Leveling Legs
Interior LED lighting
Even forced air cooling
Whynter 8.1 cu. ft. Full Size Stainless Steel Beverage Refrigerator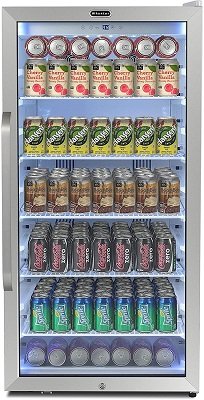 Features
Dimensions: 23 x 24 x 48 inches
Weight: 158 pounds
Capacity: 8.1 Cu. Ft.
Powerful Compressor Cooling
Tempered double pane glass
Introducing the ideal Full-Size Beverage Refrigerator, a fantastic addition to any home or business for keeping your favorite beers and canned drinks cool and accessible.
You can effortlessly control the interior environment of your beverage cooler with the digital control panel, which includes energy-efficient LED lighting and temperature settings.
This full-size beverage fridge comes with eye-catching door lighting that adds a dramatic touch to your living room or entertainment area.
With a generous capacity to hold 273 standard 12oz cans, this beverage cooler is equipped with five wire shelves, allowing you to store various-sized beverage cans and bottles with ease.
To ensure even cooling and consistent temperatures, this beverage refrigerator features a fan-forced circulation system.
For added security and temperature stability, it includes a built-in cylinder safety lock to prevent unauthorized access to your beverage fridge.
Powered by a robust Compressor Cooling system, this appliance keeps your beverages fresh, maintaining temperatures ranging from 30°F on the cooler side to 60°F on the milder end.
Pros
The capacity of 273 standard 12 oz. can
Superlit door lighting strip
Digital temperature control
Temperature range 34°F – 43°F
Freestanding installation
KingsBottle 300 Cans Full Size Beverage Refrigerator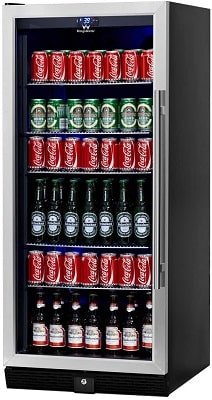 Features
Dimensions: 26.97 x 23.54 x 55.7 inches
Weight: 198 pounds
Capacity: 10.88 Cu. Ft.
Italian-made Carel temperature control
Front-venting dispersion system
Introducing the perfect solution for cooling needs in the hotel and restaurant industries: a spacious beverage refrigerator that can hold up to 300 standard 12oz cans. This refrigerator, with its single-zone glass door, features advanced Italian temperature control technology provided by Carel, a leading name in the field of regulators. It ensures that your beverages are stored at the precise temperature recommended by top beverage manufacturers.
Working seamlessly with this top-notch temperature regulator is the Embraco compressor, paired with energy-efficient LED lighting. This combination guarantees efficient drink cooling without straining your budget.
With precise temperature control, this refrigerator creates the ideal environment for storing your beverages, enabling you to serve perfectly chilled drinks to your guests or customers on hot summer days.
The upright beer refrigerator comes equipped with an automatic defrosting control mode, preventing frost buildup and ensuring the machine maintains peak performance and durability.
KingsBottle's stainless steel beer fridge is designed to accommodate various can sizes, offering flexibility in storage. You can easily adjust the shelves to fit your beverage collection.
Importantly, this beverage fridge with a glass door requires minimal additional space for built-in applications – just 1/2″ clearance on either side of the unit, along with 1″ behind the unit and 1/2″ on top. This flexibility allows you to use it as either a built-in or freestanding unit, making it an ideal choice for any setting.
Pros
Embraco Compressor
Italian Brand Controller
Stainless Steel Glass Door
300 cans Large Capacity
5 Chromed Steel Shelves
Cons
LED light not much bright
 Zephyr 24 Inch Full-Size Wine and Beverage Refrigerator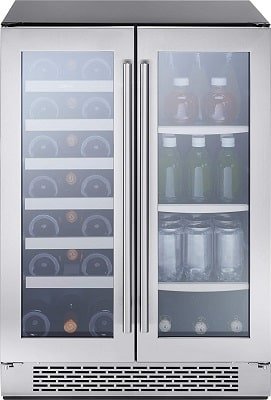 Features
Dimensions: 24 x 24 x 34 inches
Weight: 140 pounds
Capacity: 5.15 Cu. Ft.
Low-e Argon-Filled Glass Door
Active Cooling Technology
If you're in the market for a top-notch full-size beverage refrigerator, the Zephyr French door dual-zone beverage refrigerator is a great choice.
This Zephyr beverage refrigerator uses advanced active cooling technology to effectively cool your wine collection. The wine section keeps a temperature range of 38°F to 65°F, while the beverage area can be set between 34°F and 65°F.
With six removable wooden shelves and three glass shelves, this fridge provides plenty of room, holding up to 21 standard-sized wine bottles and 60 12oz beverage cans.
You can easily control the temperature in each zone to match your preferences using the digital capacitive touch control panel.
The double-pane glass door, accented by a stainless steel frame, safeguards your wine from damaging UV light, preserving its original taste and quality.
To keep things fresh, the active carbon filter continuously filters the air inside the unit. Additionally, the three-color LED lighting brightens up your wine and beverage selection, making it easier to see.
Thanks to its front ventilation system, this beverage refrigerator efficiently releases heat from the front. This means you can install it under the counter or as a built-in unit without any worries.
Pros
Stores 21 bottles and 60 cans
Six full-extension black wood racks
Three slide-out grey glass shelves
Temperature range  34°F – 65°F 
French-style glass door
KoolMore 45″ Commercial Glass 2 Door Display Beverage Refrigerator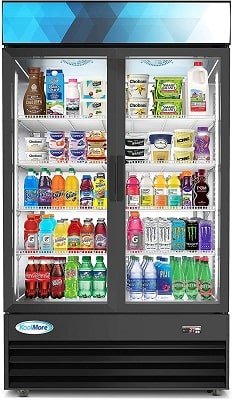 Features
Dimensions: 44.5 x 28.8 x 79.7 inches
Weight: 341 pounds
Capacity: 35 Cu. Ft.
Self closing doors with lock and key
Temp range 32-50 Fahrenheit
The KoolMore dual door entryway display fridge is the perfect choice for restaurants, cafes, grocery stores, and flower shops. It comes with a convenient bottom-mounted compressor and a raised shelf at the bottom for easy loading, unloading, and maintenance.
This beverage refrigerator catches the eye with its adaptable top-lit panel and two LED light strips. It features eight adjustable shelves that are resistant to corrosion, giving you plenty of options for displaying your items.
With a generous 35 cubic feet of storage space, this full-size beverage refrigerator offers external digital temperature control and displays to help you easily monitor and adjust the temperature.
It also has an anti-fogging system and self-closing glass display doors with a lock and key to ensure your beverages stay cool and visible. This unit is ETL-listed for safety and sanitation, meeting the NSF ANSI 7 Standard for Commercial refrigerators. It operates at 115V, 60HZ and has dimensions of 44.5 inches in length, 28.8 inches in width, and 79.7 inches in height.
You can effortlessly set the temperature of this beverage refrigerator between 32 and 50 Fahrenheit, giving you precise control over your beverages' storage conditions.
Pros
Large 35 cu. ft. storage capacity
8 easily adjustable shelves
Digital temperature display and controls
Auto defrost timer
Self-closing doors with lock 
COLZER 180 Cans of High-Capacity Full Size Beverage Refrigerator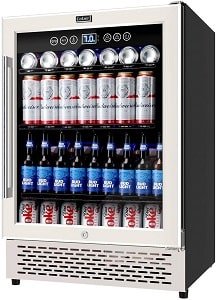 Features
Dimensions: 23.23 x 22.44 x 34.25 inches
Weight: 88 pounds
Capacity: 180 Cans
Flexible metal shelves
Tight security lock
The COLZER Beverage Fridge is the ultimate choice when it comes to a full-size beverage refrigerator, making it the perfect addition to any friendly gathering. This exceptional appliance not only offers ample storage for a variety of beverages but also cools them rapidly and effectively, thanks to its efficient convection fan.
The COLZER Beverage Fridge is designed to chill drinks and wine to temperatures ranging from 0 to 37 degrees, ensuring they're always refreshingly cold and maintaining their freshness.
By storing your beverages in this cooler, you can protect them from the negative effects of temperature fluctuations and sunlight. It keeps your beverages and wine at the right temperature and humidity levels, shielding them from the harmful impact of sunlight.
For added security and peace of mind, this beverage refrigerator features a reliable locking mechanism. The True-key lock system ensures that only authorized individuals have access to your beverages.
Also Read: Best 100 Bottle Wine Fridge
This beverage refrigerator uses an energy-efficient cooling system that operates quietly and cools your drinks rapidly. The air cooling system ensures that there's consistent airflow, maintaining a steady temperature inside.
Inside, you'll find three removable shelves with adjustable heights, allowing you to customize the space to accommodate different bottle sizes, including tall bottles and cans.
To enhance the overall atmosphere, this 24-inch drink cooler comes with eight soft blue interior LED lights, making it easy to display your beverages and creating a warm and inviting ambiance. You can easily turn these lights on and off as needed to suit your preferences.
Pros
Temperature control range 36-50℉
Three detachable shelves
Double-layered glass door
Low Noise <38 DB
Holds 46 wine bottles or 183 Can
Safety door lock
Cons
Small capacity compared to other
KingsBottle Built-In Beer & Beverage Cooler Refrigerator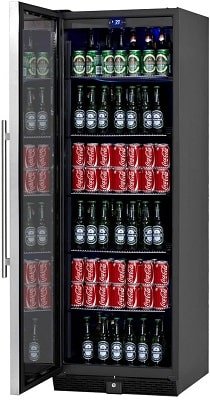 Features
Dimensions: 27 x 23.5 x 71.8 inches
Weight: 287 pounds
Capacity: 14.3 Cu. Ft 
In-built Carel temperature controller 
Massive storage capacity
This spacious 14.30 Cu. Ft. full-size beverage refrigerator can store up to 450 cans of beer or other beverages and beautifully showcases them to your customers.
Designed for indoor use, this stainless steel refrigerator comes with a glass door, adjustable shelves, and interior LED lights to display your drink collection while keeping everything at the perfect temperature.
The KingsBottle 450 Cans Beer Refrigerator is an excellent choice for your beverage cooling needs, featuring a front ventilation design and a quiet fan.
It's equipped with a premium Italian brand CAREL temperature control system for exceptional reliability, allowing you to set the temperature between 32-100°F.
Measuring 27″ x 23.5″ x 71.8″, this beverage refrigerator is constructed with stainless steel and chrome racks, ensuring that it maintains the quality of your beverages.
The glass door of the beverage fridge operates quietly, thanks to its efficient EMBRACO compressor and silent DC fans.
In addition, a fan-circulated air cooling system, powered by top-notch fans, ensures even air distribution and consistent temperature throughout the cabinet.
Pros
Temperature control range 32-100°F
Embraco Compressor
Italian Brand Controller
Stainless Steel Glass Door
450 cans Large Capacity
8 Chromed Steel Shelves
Kalamera 24 inches 154 Cans Full Capacity Beverage Cooler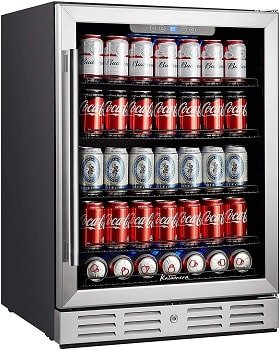 Features
Dimensions: 22.4 x 23.4 x 33 inches
Weight: 104 pounds
Capacity: 154 Cans
Whisper-quiet compressor
Elegant design
Introducing the Ultimate Full-Size Beverage Refrigerator: Crafted from sturdy stainless steel and featuring a triple-layered clear glass door, this fridge is illuminated with gentle yet visible blue LED lights that make finding your favorite soda or beer a breeze, even during those big events!
The Kalamera beverage refrigerator comes equipped with a super quiet compressor, ensuring a steady temperature range of 38-50°F without noisy starts and stops. It also includes a temperature memory feature that automatically restores your chosen temperature setting after a power outage, keeping your wine collection safe from temperature fluctuations that can spoil it.
The shelves are easy to remove, making restocking a breeze, so you can get back to enjoying time with your friends and family.
This model takes up less than 23″ x 24″ of floor space, providing the ideal spot to store your cold beer and soda without the need for bulky crates or messy coolers.
You can install it under your kitchen or bar counter or use it as a standalone unit in your living room, dining area, man cave, or entertainment space.
For added peace of mind, a child safety lock is built into the door, preventing unauthorized access and frequent door openings, ensuring the safety of your collection.
Pros
Blue interior LED light
Security lock
Reversible door
5 sliding metal shelves
Cooling temperature range: 38-50°F
Buying Guide For Full Size Beverage Refrigerator
There are several factors that you might consider while choosing the best full size beverage refrigerator. Here we described some factors that you have to consider before purchasing a beverage refrigerator.
Energy Rating
You're as a matter of first importance concern ought to be the energy rating of the beverage refrigerator you are keen on. By this, we mean the energy it devours and the force yield it oozes. A decent apparatus needs to devour an insignificant measure of force yet emit liberal force yield.
Kinds of Drinks
Drinks come in different sorts and plans. Because of these distinctions, it may not generally be that the fridge you are keen on might have the option to store and deal with them.
That is the reason you need to think about the sorts of beverages and match them with the correct beverage refrigerator.
Outside Designs
Aside from containing and liberating your refreshments, the best machine likewise assumes the auxiliary part of improving the style of your room and home.
It is a result of this that outside plan and appearance ought to likewise be thought of. Discover one that is genuinely rich to view. It must be shimmering.
Also Read: Best Beer Fridge For Garage
Space Availability
What amount of space do you have available to you? Clearly, the full size beverage refrigerator must have the option to fit the space you have in your family.
You need to learn how much space you have and afterward follow it with finding an apparatus that can fit easily in the space.
Conveying Capacity
What number of substances can the cooler hold at some random time? You need to evaluate exactly the amount you may put at home or shop and store in the fridge.
At that point, as you search for the best machine, be careful just to agree to that one which can contain each one of those substances serenely at a time.
Freezing Options
Which freezing choices would you say you are keen on? There are two primary alternatives stylish today. These are the profound and the ordinary freezing individually. A decent machine must have the option to deal with the two alternatives all at once. This is to save you time and furthermore ensure smoother activities from the start.
Also Read: Best Man Cave Beer Fridge
Cost Implications
Examine your own spending plan and monetary asset blessing. Proceed onward to search for that cooler that falls inside your monetary spending plan.
For best results, think about the costs of the different brands and retail outlets. Try not to avoid dealing as you unquestionably need the least expensive.
Support And Repairs
Every once in a while, these machines will separate. On the off chance that and when this occurs, you should re-establish them to their unique legitimate working conditions.
This regardless, you actually need to have one that is less inclined to this issue. Search for one whose form is solid and strong.
Unit Dimensions
The general elements of the machine are likewise a vital thought. A decent one must be adequately minimized to take into account simple conveying and transportation. Likewise, its size must have the option to fit the establishment space you may save for its utilization.
Storage Capacity
As a last thought, be aware of the storage capacity that the apparatus has on its inside. We have effectively clarified that refreshments come in different sizes, bundling, and limits.
You need one that is suitably fit to deal with these distinctions well. That is the reason you need to discover one with a large number.
Also Read: Large Capacity Wine Coolers
FAQs on Full Size Beverage Refrigerator
Could a beverage refrigerator be utilized as a fridge?
Not really! Most refreshment coolers are uncommonly intended to take into account beverages and beverages alone. They are subsequently far-fetched to deal with different sorts of food sources other than drinks. Some fresher models however and open and extensive enough to deal with other food things.
How cold can a beverage refrigerator be?
Beverage refrigerators to go as low as 40-45°F. Contrast this with the ordinary food coolers which can scarcely oversee 35-38°F. As you may see, they are not actually as cool as their typical partners. This implies they are less compelling and subsequently unacceptable for dealing with other food things.
What temperature should a beverage refrigerator be?
This relies generally upon the sort of drink you mean to save. Various drinks require various levels of cold. Numerous refreshments have been noted to do well in the 35-40°F temperature range. At that point, the reach additionally fluctuates starting with one brand then onto the next.
What is the distinction between a beverage cooler and a fridge?
They are comparable in practically all respects. The extra room given by the refreshment cooler is anyway restricted. At that point, it likewise does not have the advantage of customizable racks as their typical fridges do appreciate. Finally, they likewise have a glass entryway to allow you effectively to screen the inside substance.
What is a beverage fridge?
This is an uncommon sort of fridge that is planned solely to contain and cool your beverages. It bears numerous similitudes to your common fridge. The lone contrasts are the higher least cooling temperatures and the absence of compartments.
Also Read: How To Choose Right Temperature For Wine Cooler
Would you be able to placed soda pops in beverage refrigerators?
Why not? All beverage refrigerators can deal with both the drunkard and non-mixed drinks the same. You can, hence, put your sodas in a wine cooler. Make certain to be aware of the suggested temperature rating of the refreshment you have at the top of the priority list.
Conclusion
In our quest to find the best full-size beverage refrigerator of 2023, our comprehensive guide introduces a diverse array of options. These refrigerators are poised to elevate your beverage storage experience, whether you're a hospitality professional seeking top-notch cooling or a homeowner looking to enhance your home bar or entertainment area.
Beverage refrigerators are essential additions to both commercial and residential settings. They excel at efficiently cooling your beverages while freeing up valuable space in your main fridge. Designed specifically for cans and bottles, they eliminate the hassle of finding room for your favorite drinks. Moreover, their compact design allows them to seamlessly fit into most spaces, making them an excellent alternative to standard refrigerators.
What sets a beverage refrigerator apart from its conventional counterpart is its purpose-built layout, optimized for storing beverages. These versatile fridges can be placed wherever suits your convenience and lifestyle, extending their utility beyond just the kitchen.
In today's dynamic market, we've conducted an exhaustive review of the finest full-size beverage refrigerators. Our evaluation criteria considered features, customer satisfaction, durability, and storage capacity, all geared towards simplifying your decision-making process and ensuring you make an informed choice.
Selecting the perfect full-size beverage refrigerator hinges on factors such as energy efficiency, storage capacity, temperature control, and exterior design. Ensure it aligns with your available space and budget, bringing you the ideal solution for keeping your beverages refreshingly chilled and readily accessible.
Elevate your beverage storage and cooling with one of these top-tier full-size beverage refrigerators, enhancing your convenience and delighting your guests with perfectly chilled drinks for any occasion.
Read More Article Here