The basement is one of the greatest places in your house to keep wine. A compact, dark, and undisturbed space makes it simpler to regulate the relative humidity and temperature. A basement is a suitable alternative to a wine cellar if you don't have one. The only things you'll need are a good cellar and a rack to store your wines on.
Based on our research, we've compiled a list of the top ten finest wine racks for the basement to satisfy your needs and interests. Look over the details and pick your favorite. Let's not waste any more time and start getting to know them individually right away.
Are basements good for storing wine?
Locate your safe haven in a basement or other subterranean space where the temperature is consistent and low all year. If the cellar you're storing your wine in has a moist climate, you should keep it against a wall rather than on the floor.
Also Read: Best Wine Storage Boxes
Pick a spot that doesn't get too hot or too cold, is shielded from direct sunlight, and isn't near any water heaters, boilers, or other sources of heat. Long-term wine quality can be harmed by the vibrations generated by appliances like boilers, dishwashers, and dishwashers. Wine's quality, fragrance, and flavor can all be negatively impacted by vibration because of the way it alters the wine's chemistry.
Best Wine Rack For Basement
DISPLAYGIFTS Modular Stackable Wine Rack
Features
Brand: DisplayGifts
Material: Wood, Pine
Color: Wood
Capacity: 72 Bottle Capacity
The DisplayGifts Wine Rack is a great option for individuals with a sizable wine collection. Its 6 rows by 12 deep capacity can hold an impressive 72 bottles. This rack's modular construction is another feature that I find appealing; it can be simply shrunk or enlarged to accommodate your changing storage needs.
In addition, the pine wood used in this wine rack is both natural and strong. Since it is not discolored, it will not smear or discolor the labels or bottles.
The maker ensures that there will be no shakiness in the structure. Since it includes dowel pins to secure the connections between the parts, this is indeed the case. In general, no specialized equipment or skills are required for assembly.
Also Read: Best Coolest Wine Racks
Standard 750 ml wine bottles will fit in this rack's 11-inch depth. It measures 24.75 inches in width and 60.5 inches in height. Please be aware that champagne and magnum bottles will not fit.
Although it was built in a semi-modular fashion, I was blown away by how solid the finished wine rack was. Additionally, I am allowed to apply whichever coating or stain I choose. A few people I know glue the dowel pins in place, but I don't see it as required unless you're really cautious.
Wine Racks America Pine 64 Bottle Deluxe
Features
Brand: Wine Racks America
Material: Pine
Color: Wood
Capacity: 64 Bottle Capacity
More importantly, you can age wine in this rack. If your basement is at least 7 feet tall, as required by the International Residential Code (IRC), a floor rack is an ideal storage solution.
You may buy with confidence knowing that Wine Racks America stands behind this product 100%. The fact that it was designed specifically for storing wine means that the guarantee is unending.
You should know that it can't be mounted on a wall. Even so, it has maintained its strength and stability as a freestanding rack. It's inexpensive and looks great, and that's a rare combination these days.
This wooden basement wine rack is designed to seem like a piece of wine rack furniture and can hold up to 64 bottles of wine. The design mimics that of a freestanding wine cabinet, and its solid top and sides provide the ideal conditions for maturing wine, such as low temperatures and complete darkness. 
MMP Living Stackable Modular Wine Rack
Features
Brand: MMP Living
Material: Polypropylene, Plastic
Color: Grey
Capacity: 50 Bottle Capacity
I think this wine rack is the best modular wine rack on the market. It has space for 50 bottles, but you can easily remove some of the slots to make it more compact.
It's one of the most convenient wine racks for the basement since it can be quickly assembled or disassembled. Each bottle slot may be put together without the use of any additional hardware. This rack is perfect for stowing anywhere from one to fifty bottles.
Measurements for the width and height of each bottle slot are 4 1/8 inches and 9 7/6 inches, respectively. The commercial-grade polypropylene construction ensures that your wine bottles remain unscathed. It's also a practical choice because you won't have to find room in your basement for a bulky rack. It's easy to put together wherever you are and take apart to move the bottles somewhere.
And if you want to store wine for a long time, it's a fantastic option for closets. Please note that the top plates are not included with this 50-piece set and must be purchased separately.
You may store your items safely against wood decay and rust with this plastic modular rack.
Sogesfurniture Stackable Modular Small Wine Storage Rack
Features
Brand: Sogesfurniture
Material: Wood, Pine
Color: Beige
Capacity: 32 Bottle Capacity
It's time for us to view this wine rack from sogesfurniture, it is made with a versatile design to fit in any space perfectly. The rack comes with a wave style to protect each bottle of wine in an accessible as well as a stable place. This rack is built with pine wood, and it offers a solid construction to bear the weight.
This rack is able to hold at a maximum of 32 bottles, and each layer can bear about 8 bottles. The opening diameter is 3.5 inches, which is suitable for a 750mL bottle. This rack has a lightweight body of only 11lbs.
The horizontal storage helps keep the corks fully wet, which keeps the wine fresher, and the flexible modular stacking design, with its wave-shaped shelves, protects each bottle and makes them more accessible.
Smartxchoices Stackable Modular Wine Rack For Basement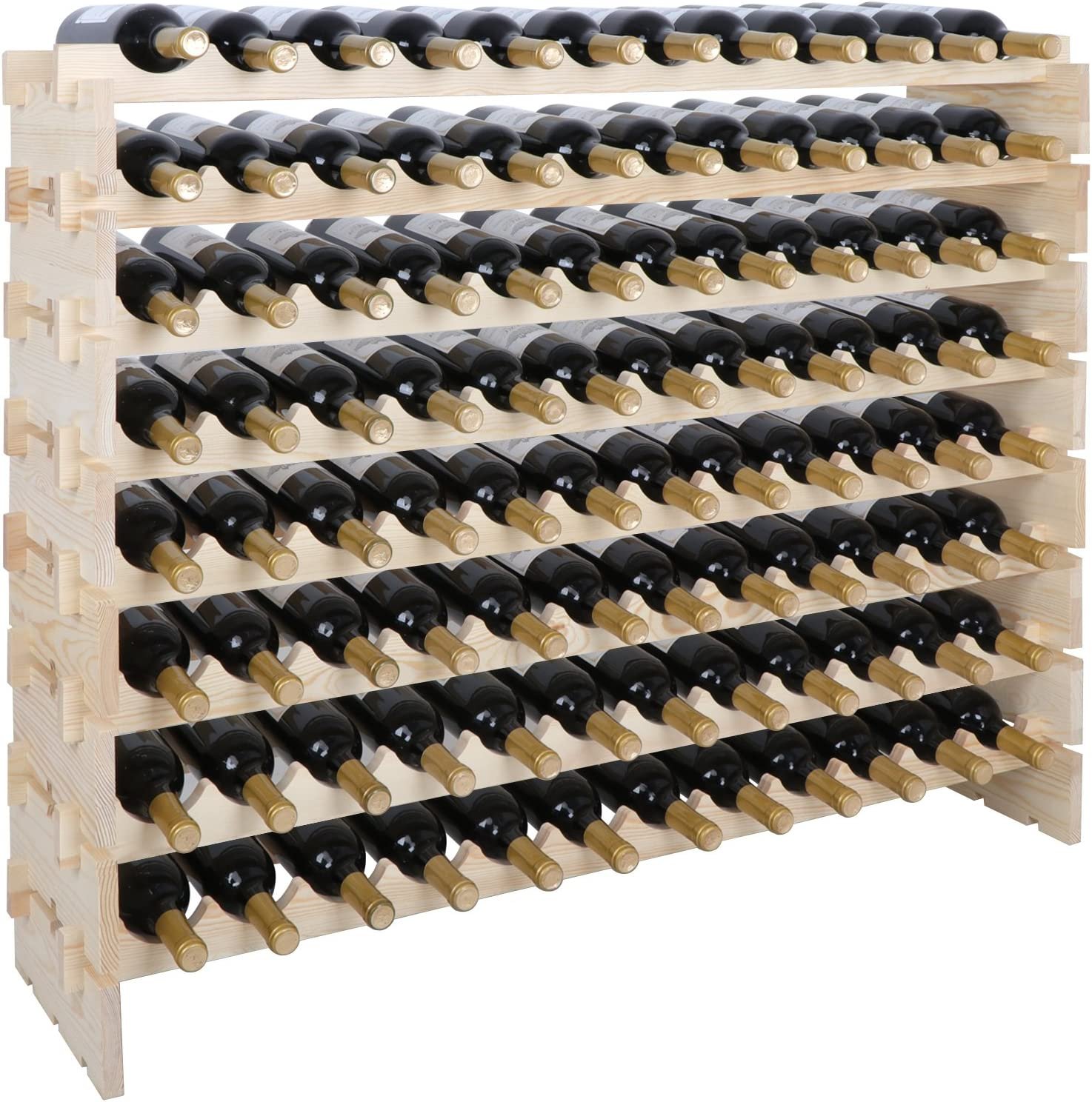 Features
Brand: Smartxchoices
Material: Wood, Pine
Color: Wood
Capacity: 96 Bottle Capacity
Another fantastic option from Smartxchoices' extensive catalog of wine rack designs. Each of the six shelves on this rack can hold up to a maximum of twelve bottles, for a total capacity of seventy-two.
The rack's body weighs a mere 72 pounds. More so, the rack is crafted from real pine wood and has notches and slots for a more comprehensive and eye-catching presentation. This rack has a straightforward and uncomplicated construction procedure.
Installing it requires no special equipment. Gifting this to a friend, family member, or business associate is a great idea because it may be used in any setting.
Constructed from premium pine wood for durability and portability. This hardwood has a thickness of 0.7 inches and is a smooth, long-lasting substance suitable for storing wine. Not the least bit of shakiness!
Sorbus Free Standing Floor Stand Wine Rack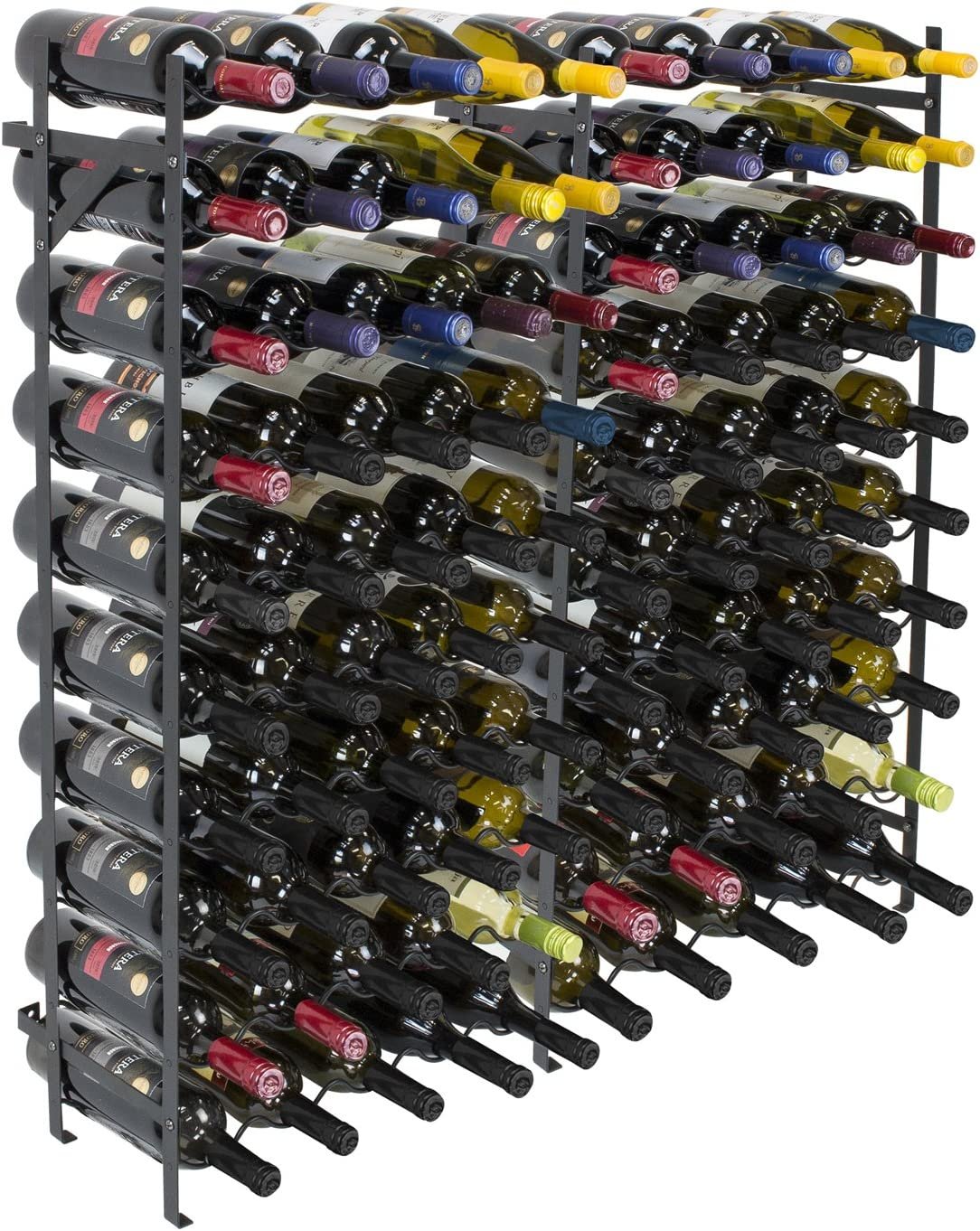 Features
Brand: Sorbus
Material: Metal
Color: Black
Capacity: 100 Bottle Capacity
This Sorbus wine rack is ideal if you have a sizable wine collection and need a place to keep all of the bottles neatly organized. The maximum number of wine bottles that may be stored in this stand is forty.
It may be used to showcase wine in the dining room, basement bar, or even the kitchen. Each level is suggested for holding 4 bottles, and there can be as many as 10 levels total. The rack maintains the bottle in a horizontal position, preparing it for consumption.
In order to save assembly time, as few stages as possible are required. You'll find everything you need, from the necessary equipment to detailed instructions, in the box provided. The rack has a metal construction and a sleek black finish.
Buruis 9 Bottles Metal Wine Rack For Basement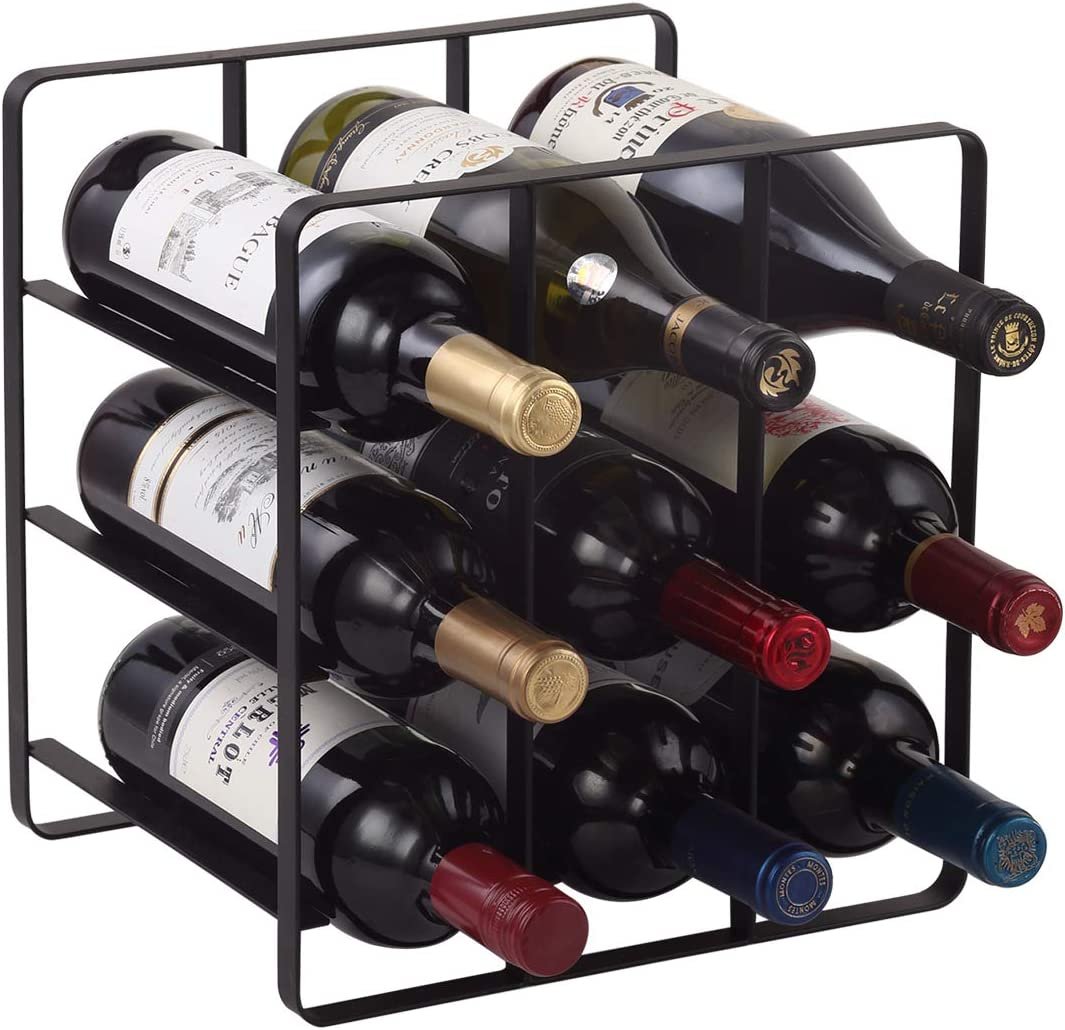 Features
Brand: Buruis
Material: Wrought Iron, Metal
Color: Black-cuboid
Capacity: 9 Bottle Capacity
Even though it is classified as a cabinet wine rack for basement, I would gladly show it out in my rec room or on my kitchen island. Its sleek and simple appearance will complement any interior design scheme.
The rack's small size is the model's strongest suit. It's the right size for installing within existing kitchen cabinets to convert such spaces to wine racks. Provided you have the additional storage space in your cabinets.
The Buruis wine rack is an aesthetically pleasing way to store nine of your finest bottles of wine. The price is comparable to that of a nice bottle of wine. Strong and long-lasting wrought iron is used in its construction.
This rack comes in four distinct designs and hues, including a sleek black cuboid, a shiny rose gold honeycomb, a shiny silver honeycomb, or a clean white cuboid.
Giantex Wall Mounted Basement Wine Rack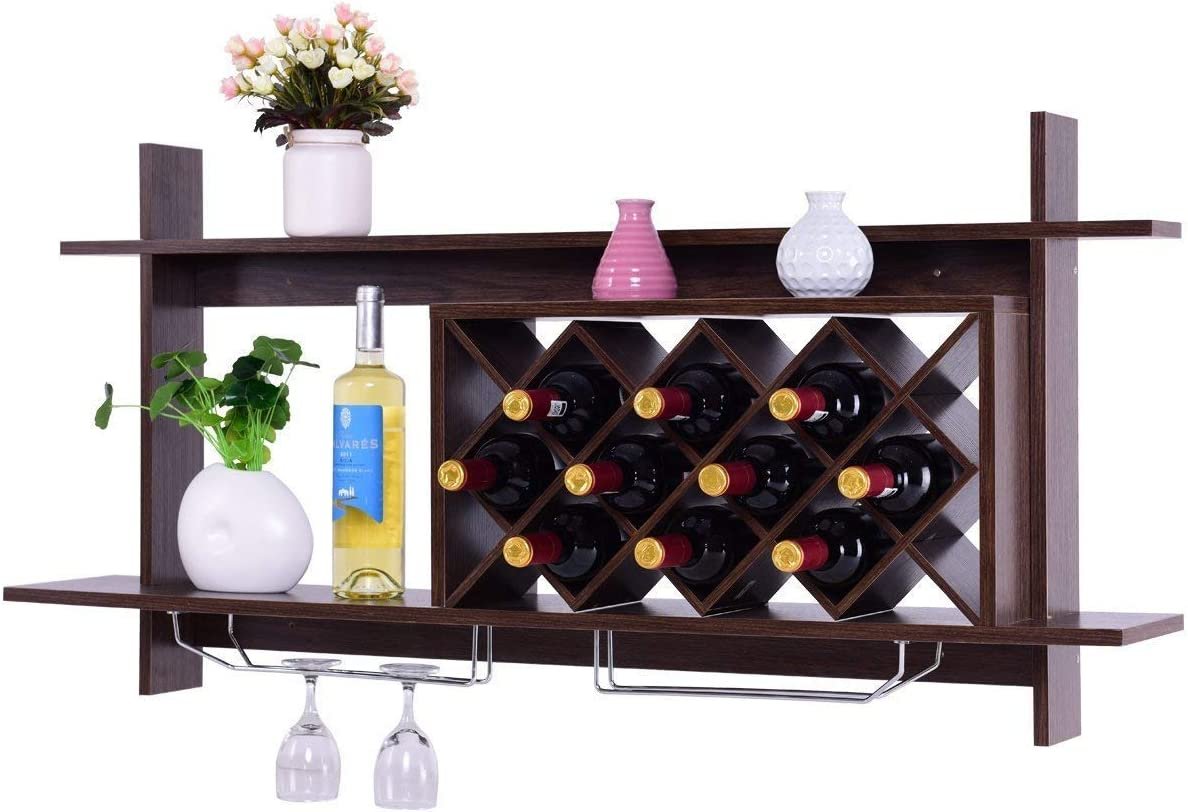 Features
Brand: Giantex
Material: Engineered Wood, Stainless Steel
Color: Black Walnut
Capacity: 10 Bottle Capacity
This Giantex wine rack is a terrific way to save floor space while also giving you a convenient place to store your wine bottles and stemware. Acquire many of these shelves to construct a long, continuous rack.
Make sure at least two of the screws are pegged into studs when you attach this to the wall. Make sure it's securely fastened to the wall if you want to store heavy bottles, wine glasses, or both.
This sturdy and elegant wine rack is ideal for displaying your collection. You may hang it on any wall and it will look great.
You can store up to ten regular-sized bottles in the main section, while the upper and side shelves are perfect for displaying your wine glasses and other decorative things. The walnut finishing gives it a sophisticated and elegant appearance.
MyGift Gray Metal Freestanding Wine Rack
Features
Brand: MyGift
Material: Metal
Color: Dark Gray
Capacity: 54 Bottle Capacity
If you want a wine rack but aren't a fan of the traditional wooden design, consider the My Gift option. Because it is constructed of metal wire, it can support a great deal of weight without breaking.
The clever design allows for quick and simple construction without the need for any tools, and the generous spacing between the cubbies means that even taller wine bottles may be stored inside.
It has enough space for 54 bottles of wine. It's simple to assemble, durable, and has a classy appearance.
I can't see anyone not like this product if they prefer metal to wood for their wine rack. It works wonderfully with standard-sized bottles and can easily manage many larger bottles as well.
My only qualm is that the aluminum is hollow and the wine rack isn't particularly sturdy. In terms of practicality, though, I do like heavier wine racks.
Sorbus Stackable Bamboo Wine Rack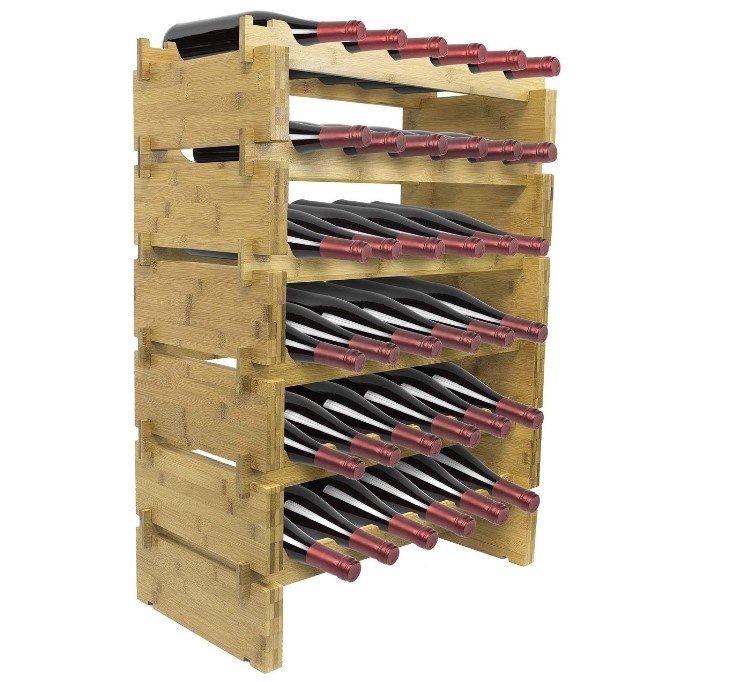 Features
Brand: Sorbus
Material: Wood
Color: Brown
Capacity: 36 Bottle Capacity
This wine rack has 6 levels and can store 36 bottles. To accommodate future additions to the collection, the rack is designed to be stacked. It may be stacked, placed side by side, or even separated for a more elaborate presentation.
This wine rack may be used in the kitchen, cellar, or dining area. Built to last, it will keep your bottles safely in place in the case of an accident. There is no need for any tools during assembly.
This 6-tier stacking shelf, made from classic and beautiful bamboo, is ideal for novice and seasoned vino enthusiasts alike. It's practical, attractive, and suitable for use on any level surface in your kitchen, dining room, basement, wine cellar, bar, or pantry.
Whether you want to stack it vertically, horizontally, or individually, you can do it with ease because to its adaptability. Each bottle of wine is housed horizontally on a lovely scalloped rack that keeps the bottles from moving around and guarantees that the wine and air bubbles remain in touch with the cork.
Also Read: Best Wine Storage Bakers Racks
Why Do You Need A Wine Rack?
Wines may be stored just about anywhere, but a rack offers certain convenient advantages. The following are some of the most compelling arguments in favor of investing in a separate rack for your liquor:
You must maintain a horizontal position with the bottles at all times. Keeping bottles on their sides helps protect the corks from drying up and crumbling when you want to open them.
Sediments are held to one side. If you store your wine bottles on their sides instead of their necks, the sediment will settle on the side of the bottle. After you remove the cork, it won't leak.
You may say that it has a pleasing appearance. A dedicated wine rack is an elegant alternative to cardboard boxes and makeshift storage options for your wine and liquor. That way, the bottles won't fall and break.
The wine is protected from the light. Solid wood wine racks are popular because they protect the wine from direct sunlight.
How to condition your basement as wine storage
Basements, as a general rule, have inconsistent humidity and temperature levels. It needs the following treatment to become a wine cellar:
Influence the seating and insulation
You should start by plugging up all the cracks and openings in your basement. Such passageways are detrimental to your basement's climate management. In order to keep the space dry and free of vapors, you need additionally seal the floor with a penetrating sealer.
Also Read: Best Beer Storage Container
Install a vapour barrier
The basement insulation must be finished off with a vapor barrier to prevent moisture from seeping up through the walls. This will prevent the wine in your cellar from being damaged by the extremes in temperature in your basement. Since vaporization acts as a stimulant for the molding process, it must be managed as well. That's a certain way to damage your wine labels and give your basement a rotten smell.
Furring
Spray foam should be used to repair any wall cracks. Next, you could want to start furring the wall by attaching foam strips. To make temperature regulation simpler, a foam thickness of 2 to 4 inches is recommended. Incorporating furring into a building's construction increases the wall thickness, which in turn facilitates better humidity and temperature regulation.
The correct door must be chosen as well. Put weather stripping and a thermal pane unit on the door to your wine cellar in the basement.
Spend money on a air conditioner
Your basement is ready for a cooling system after sealing and vapor proofing. A through-the-wall cooling device that mimics an air conditioner is my particular favorite. It is less difficult and cheaper to set up.
However, this air conditioning system requires a hole to be bored in your basement. If you must use one of these products, attempt to choose one with a lower noise output.
Alternative cooling options include split cooling systems, which use the same component as split air conditioning units. The only modification required for this method is the drilling of a tiny hole for the hose. Since the compressor would be situated outside, there would be far less noise. The installation of such a system, however, requires expert assistance.
Also Read: Best Industrial Pipe Wine Racks
Pick a wine rack you can trust.
Finally, you'll want a sturdy wine rack that will serve you well for many years. Pine and solid wood are the greatest options since they are long-lasting and will keep your wine dark.
What to look in best wine rack for basement
Consider these factors while searching for the best wine racks for your basement:
Capacity
Determine how many bottles can fit onto the rack first. It might be anywhere from one to seventy bottles. You may need more than one rack to store your wine collection. It is prudent to upgrade to a larger storage facility if you intend to expand your collection.
On top of that, you need to make sure the capacity is accurate by checking the bottle size used. In most cases, it would be based on the volume of a 750 ml bottle, which is the norm for Bordeaux wines.
Material
Metal and wood both work well for wine shelves. Wood is my material of choice since it has a timeless appeal and resists corrosion.
Always be sure the wood you're using is thick enough. Consider using wood that is 3/4 inches thick if you want your rack to last a long time.
The use of low-quality wood is another issue I wish to highlight. It may be less expensive now, but in the long run, the cost of replacements will be higher. In contrast, a modular type may be had for less money without compromising on quality.
There are many different types of hardwood that may be used to make wine racks, but mahogany, pine, and redwood are among the best. This material is a bit more expensive than others, but it will hold up to the wear and tear of regular use for decades.
Finally, a wine rack constructed out of cedar or tinted wood should be considered carefully. When left in the bottle for too long, it might leave a noticeable discoloration. If this isn't a dealbreaker for you, then I don't see any further problems with dyed wood.
Also Read: Best Beer Fridge For Garage
Type of Rack
Various kinds of wine racks include:
Wine racks that sit on the kitchen counter.
It's on the compact side, but it'll still store a decent number of bottles of wine. This is perfect for the home bar or kitchen counter. This is why you should consider a countertop wine rack. It might not be the ideal choice for a massive collection, though, because to their little size. Anyway, this is a great buy if you want to show off a few bottles in your house.
Hanging shelves.
Wall-mounted racks, like their tabletop counterparts, are quite compact. It may serve as both a functional and decorative item because of the included glass holders. It's a common fixture in bars and kitchens.
Racks for storing wine that are suspended from the ceiling.
It might be challenging to mount this wine rack to the ceiling. Commonly, it's a decorative addition to kitchens and bars at people's houses. You should be picky regarding the quality of this rack if you decide to go with it. This will keep your wine bottles off the floor and out of the way.
Floor-mounted wine shelves.
Wine storage on the floor is a great choice for individuals with a more extensive collection. When fully loaded, it can store up to 70 bottles, making it ideal for large-scale production. It works wonderfully as a wine storage area in a cellar.
Also Read: Best Man Cave Beer Fridge
Wine racks that can be assembled from separate modules.
This wine rack is made up of separate pieces that must be put together. The flexibility of this option to increase or decrease storage capacity is a major plus. You may save money compared to wine racks made entirely of solid wood for the floor, but the quality must be monitored closely.
Conclusion
The greatest wine storage racks for your basement are summarized here. But the wine rack isn't only for showing off in the basement. Whether in the kitchen, the dining room, or the living room, you should be able to store your wine collection there with ease. Get one right away to guarantee the long-term preservation of your wine collection.